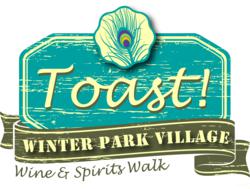 Winter Park, FL (PRWEB) August 13, 2012
CASTO, one of the country's leading real estate organizations, together with Mpact Orlando Marketing, announced today that Winter Park Village will be hosting, Toast!, a wine and spirits walk on Thursday, August 16th from 6PM – 10PM, located at Winter Park Village on 17-92 between Lee Road and Fairbanks Avenue.
"Please join us and enjoy a complimentary beer, wine or cocktail at six of our fabulous restaurants, along with great food specials, sidewalk sales, lots of entertainment and even a goodie bag," stated Neisha Vitello, Property Manager at Winter Park Village. "Spend the evening dining with friends, discovering our shops and sales, listening to great music and maybe even play some golf," Vitello added.
Tickets are $25 on-site. 20% of all tickets sales will be donated to Best Buddies of Orlando. For online tickets, visit http://www.toastwinterparkvillage.eventbrite.com.
About Winter Park Village
Winter Park Village is located in the affluent community of Winter Park, just north of Orlando. This established urban lifestyle center is not only a unique destination for upscale shopping, dining, and entertainment, but also included residential and office uses. For more information about Winter Park Village please visit our website at http://www.shopwinterparkvillage.net.
About MPact Orlando Marketing, LLC.
Mpact Orlando Marketing, LLC is Orlando's premiere marketing and business consulting agency. We work closely with local business owners for new and creative ways to quickly build their bottom lines, grow their client bases, and drive revenue. Trust, Speed and Results are the foundation of our business and continue to influence our growth and yours within the community!
Please visit MpactOrlando.com for more information or call us at 407.951.5100 for a Free Consultation!
About CASTO
CASTO, a fully integrated real estate organization since 1926, is a recognized leader in the ownership, management, acquisition and development of commercial shopping centers and multi-family residences, office buildings and corporate parks. CASTO's growing portfolio currently includes over 23 million square feet of commercial property and nearly 4,000 residential units located primarily throughout the Midwestern and southeastern United States and Puerto Rico. CASTO currently has more than three million square feet of retail in development. To learn more about CASTO, call (888) 400-0878 or visit http://www.castoinfo.com.
# # #