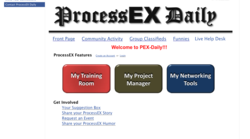 We look forward to working together in ways that might improve each of our professional capabilities and most importantly our company's performance.
Lake Oswego, OR (PRWEB) August 14, 2012
Creative Safety Supply is now offering one of the most innovative Process Excellence Development Networks in the world on August 15, 2012.
Introducing ProcessEX-Daily- the all inclusive development network site that provides industry professionals with a platform that includes all the Training, Tools, and Networking Resources needed to achieve greater results with current and future successes.
KEY FEATURES OF PROCESSEX-DAILY:

Hawkeye the Powerful Web-Based Lean Six Sigma Project Management System
Interactive Training Room (you can be a Teacher or a Student)
Advanced Networking (AUDIO/VIDEO Conferencing, LIVE HELP DESK)
Standard Networking (FORUM, BLOG, EMAIL, CHAT)
Interactive Process Excellence Related WIKI pages (Add Your Contributions)
Interactive Tools and Templates (Upload or Download powerful files)
Interactive News Paper (Submit or Read interesting Success /Failure stories)
Interactive Classified Ads (Showcase your product or service for others to find)
These resources are designed for the growing number of individuals tasked with improving a business' bottom line performance. It is expected that they will take advantage of all that this development network site has to offer. For Process Excellence-related consultants, Creative Safety Supply can connect products and services with the companies who are seeking them.