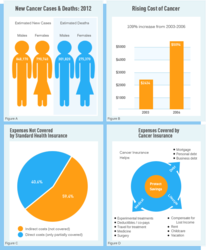 "Cancer insurance can be surprisingly difficult to explain," says CancerPlans.com president Cary Rentner. "Our new infographic series lets customers 'see' what we're talking about – and understand the benefits of cancer insurance in a new way."
Fort Lauderdale, Florida (PRWEB) August 14, 2012
CancerPlans.com unveiled the first installment in a new series of informational graphics that present cancer insurance data in a visually accessible format. Titled "Cancer Insurance: The Big Picture," the set of images provides helpful data on cancer statistics, cancer costs, and insurance coverage options. The infographics are now live on the CancerPlans.com website.
"Cancer insurance can be surprisingly difficult to explain," says CancerPlans.com president Cary Rentner. "Our new infographic series lets customers 'see' what we're talking about – and understand the benefits of cancer insurance in a new way."
Infographics have become a widespread data sharing strategy over the past few years. In an increasingly media- and image-oriented society, consumers understand and relate to graphic presentations of data on an instinctive level. According to a recent study in Computer Business Review, more and more companies are incorporating infographics into their business strategies in 2012 as data visualization hits the mainstream.
Pictures provide a way to digest large amounts of data easily and understand important concepts quickly. But an engaging, interactive image is key. The CBR report noted that dynamic, appealing infographics are the most effective.
"With the trend of bigger data, interactive data visualization will become a critical tool in sifting through all that data," the study explained. "Reports filled with endless rows and columns of numbers or static, boring charts that take hours to sift through and weeks to change won't cut it anymore."
The new set of infographics on CancerPlans.com makes cancer insurance data digestible, using memorable images and appealing colors to clarify complex insurance concepts. The large introductory graphic combines four smaller images, allowing consumers to click through and see enlargements of each concept.
CancerPlans.com intends to create an ongoing series of infographics discussing aspects of cancer insurance, critical illness insurance and other relevant topics.
Cancer insurance is a supplemental insurance policy that provides a lump sum benefit upon first diagnosis of a covered cancer, allowing policyholders to pay for treatments, medical expenses, food, housing or anything else they need. As a stand-alone insurance policy, cancer insurance does not require any type of prior health insurance plan.
About CancerPlans.com: As an independent, nationally-licensed insurance agency, CancerPlans.com provides valuable information about top-rated cancer insurance and critical illness insurance carriers. Customers can use the proprietary, streamlined technology platform to compare insurance providers, quote up to 10 policies at once, and apply for cancer insurance online. With CancerPlans.com, users can process application forms and communicate with insurance providers through a single, convenient online portal.
Contact:
Cary Rentner
cary(at)cancerplans(dot)com
CANCERPLANS.COM
4495 SW 67th Terrace, Suite #206
Fort Lauderdale, FL 33314
Ph: + 1-888-55-CRITICAL
http://www.centrifugesystems.com/news/report-data-visualization-among-top-analytics-trend-for-2012