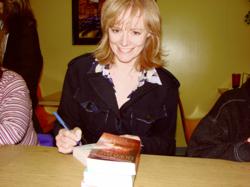 (PRWEB) August 13, 2012
The St. Louis County Library Foundation is pleased to present popular romance writer and Shakespearean scholar Eloisa James. James will sign and discuss her new novel, "The Ugly Duchess," on Tuesday, September 4, 7:00 p.m. at Library Headquarters, 1640 S. Lindbergh Blvd.
The program is free and open to the public. Books will be available for purchase at the event from Barnes and Noble.
The event is co-sponsored by the Romance Writers of America, Missouri Chapter.
New York Times bestselling author Eloisa James has fashioned an unusual heroine in her newest fairy-tale perfect historical novel, "The Ugly Duchess." Naturally, such an extraordinary character will have a once-in-a-lifetime love affair, as only Ms. James can tell it.
Theodora Saxby is the last woman anyone expects the gorgeous James Ryburn, heir to the Duchy of Ashbrook, to marry. But after a romantic proposal before the prince himself, even practical Theo finds herself convinced of her soon-to-be duke's passion.
Still, the tabloids give the marriage six months. Theo would have given it a lifetime… until she discovers that James desired not her heart, and certainly not her countenance, but her dowry. Now James faces the battle of his life, convincing Theo that he loves the duckling who blossomed into the swan.
Eloisa James is the bestselling author of over 20 historical romances. A reviewer from USA Today wrote of Eloisa's first novel that she "found herself devouring the book like a dieter with a Hershey bar"; later People Magazine raved that "romance writing does not get better than this."
After graduating from Harvard University, Eloisa got an M. Phil. from Oxford University, a Ph.D. from Yale, and eventually became a Shakespeare professor and head of the Creative Writing program at Fordham University in New York.
Eloisa James is also the author of the popular memoir, "Paris in Love," about the year she lived in Paris following a struggle with breast cancer.
Program sites are accessible. Upon two weeks notice, accommodations will be made for persons with disabilities. Contact St. Louis County Library by phone 314-994-3300 or visit http://www.slcl.org.