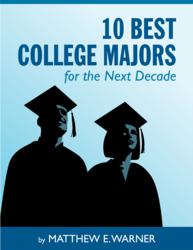 Miami, FL (PRWEB) August 15, 2012
A new ebook launched today that offers today's college students a glimpse of their possible futures. The book, entitled 10 Best College Majors for the Next Decade, offers detailed information for students planning to enter college within the next few years.
The book profiles 10 of the top emerging career fields of tomorrow. For each field, the book details the necessary coursework, possible career paths, industry outlook, projected salaries, best schools in each region of the country and their annual tuition costs, and other valuable information. Created specifically for people who are in the process of applying to colleges and picking a college major, the book aims to be a definitive guide for students who want to plan and enter lucrative, in-demand careers.
The book's author, Matthew E. Warner, said the data presented in the book came from careful research from the most credible sources, including the U.S. Bureau of Labor Statistics, recent studies and industry organizations. "My goal in writing this book was to provide today's students with a tool that will help them make the most informed choices about their education and future," said Warner. "I think I accomplished that."
The book is also packed with pictures of people working in their fields, and provides sources for more research on the best college majors and careers. It is available in PDF format, so it can be read on computers, tablets, most ereaders and some smartphones.
To download a copy of the book for $4.95, please visit http://www.helpmefindamajor.com.
10 Best Majors for the Next Decade is published by FirePath Publishing, a division of FirePath Inc.