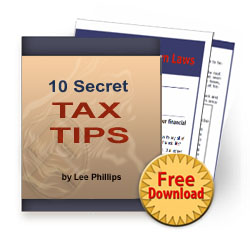 A basic understanding of a few tax tips can save the average small businessperson a lot of taxes
Siesta Key, FL (PRWEB) August 15, 2012
"The tax tips list released by LegaLees Corporation includes a few of the tax loopholes probably used in the Romney tax returns. There's nothing shady about taking advantage of the tax loopholes congress has provided for Americans to help relieve their tax burden," states Lee R. Phillips, attorney.
"Tax planning is nothing more than following the tax laws and saving taxes wherever the law gives the taxpayer a break. Basically, the term tax loophole is just street jargon for a tax law that helps the tax payer," says Hal Rosen, Salt Lake City CPA.
Get more tax loopholes here
"The Press is all over Romney trying to get him to release his tax returns. They are accusing him of using tax loopholes, as if that was something illegal or at least secretive," says Lee Phillips.
In an interview between White House Press Secretary Robert Gibbs and CNN's Candy Crowley, Gibbs insists that Romney should release his tax returns so "The whole world would know exactly what loopholes [Mitt Romney] is taking advantage of…"
"There's nothing wrong with following the tax laws, whether people call it tax planning or taking advantage of tax loopholes. In fact, the half of America that pays taxes had better wake up and start cutting their taxes any way they legally can," Phillips insists.
"Start by finding all the tax tips you can, and then use a proactive CPA who will help you apply the tax tips to your specific situation," says Rosen.
Phillips points out: "Of course, Romney takes advantage of all the tax planning techniques he can. Of course, all of the possible Romney tax returns have been filed. He has been planning a presidential run for decades. Do you really think he is going to cheat on his taxes, when he knows the sitting President will have him under the IRS microscope?"
"The wealthy use the tax laws to their advantage wherever possible," says Lee. "Romney's tax plan calls on eliminating a lot of the advantageous tax laws the rich use. He will leave the Bush tax cuts in place for everyone, but eliminate a lot of the popular tax loopholes."
Click here to see more on this
"People don't use the tax breaks that are available to them, because they don't know about them. Many CPAs just plug in the numbers and don't really point out the tax loopholes available to their clients. The CPAs know about the tax breaks, but simply don't have time to apply them to each client and his situation," says Rosen.
"A basic understanding of a few tax tips can save the average small businessperson a lot of taxes. It's up to the individual to learn about the tax laws and make sure they take advantage of each law that applies to them," says Phillips.
Visit our official site to download the 10 tax tips.