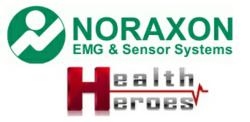 Scottsdale, AZ (PRWEB) August 15, 2012
Noraxon announced today that they would be featured in an upcoming episode of Health Heroes.
Noraxon is on the cutting edge of electromyography technology, or EMG. The advanced devices designed and manufactured by Noraxon are used in healthcare facilities across the county, to diagnose and treat patients ranging from professional athletes to children with cerebral palsy.
"We are truly honored and thrilled to work with Health Heroes and showcase how the collaboration between Noraxon and MultiCare is helping children with severe disabilities," said Randy Raisanen, president of Noraxon. "Health Heroes provides us an opportunity to introduce a larger audience to our technically advanced, yet easy to use clinical products. As president of Noraxon it is very exciting and rewarding for me to see caregivers, clinics and hospitals using our products to help improve the quality of life for these special children as well as many other patients around the world; enabling all of them to overcome the challenges of their conditions. While we have worked hard to develop solutions and products that provide a unique approach to a full analysis and therapy concept, the true heroes are these children and their families as well as the dedicated doctors and caregivers."
This particular episode will provide viewers with an unprescedented level of access to the latest advancements being made in neuroscience. Technology is allowing medical personnel a level of insight into the human brain than ever before, leading to breakthroughs that were once thought of as mere science fiction.
"The advances being made through Noraxon are, to say the least, amazing," said Barbara Perry, producer for the series. "I hope that through this episode, more families in need of help will know where to turn."
In this segment, Health Heroes travels on location, to Puyallup, Washington. Puyallup is home to MultiCare, one of the world's premier locations for the treatment of cerebral palsy. Television audiences nationwide will be taken behind-the-scenes, and learn how MultiCare and Noraxon are working together to solve one of the most challenging mysteries in history: the human brain.
"Damage to the brain, whether it is due to an accident or a disease, can be devastating for both the patient and their family," said Vince Moss, creative director fot the show. "I am proud to be showcasing Noraxon, and the exciting advancements that they are making at places like MultiCare."
About Health Heroes:
Health Heroes is a powerful TV series dedicated to defining and exploring today's latest medical advances in all areas of health and wellness. Written with both the industry professional and television audience in mind, Health Heroes educates, entertains and enlightens the lives of our viewers.
For more information visit: http://www.dmgproductions.org or call (866) 496-4065.
About Noraxon:
Noraxon USA provides market leading technology in measurement and training devices, such as EMG, gait analysis, biofeedback and 2D/3D motion analysis, that enables a unique approach to a fully equipped analysis and therapy concept for clinical and research applications. The leader in Human Performance Measurement Solutions for over 25 years!
For more information, visit: http://www.noraxon.com or call (480) 443-3413.
Media Contact:
Brent Perkins, Director of Sales and Marketing
(480) 443-3413