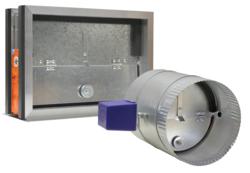 Indianapolis, IN (PRWEB) August 13, 2012
Jackson Systems, a leading direct-to-contractor zone control manufacturer and distributor, will host a 'virtual sales event' via Facebook. The virtual sales event is an innovative sales tactic that is the first of its kind in the HVAC industry. The event will feature a special promotion on Jackson Systems latest invention, the barometric zone damper.
The promotion will be available only to people who have "liked" Jackson Systems' Facebook fan page. The event will take place via Facebook on August 16th from 4-8 pm EST. 'Attendees' will receive a special promotional code they can enter on the Jackson Systems ecommerce site to redeem the promotion. The code will expire at 8 pm on August 16th at the close of the event.
The BZD Barometric Zone Damper™ operates like any standard zone control damper but has a built-in static pressure relief mechanism that eliminates the need for a bypass damper. The damper has been factory set and does not require any adjustments. When the static pressure reaches set point, the barometric half of the damper will start to modulate open, bleeding a small amount of air in order to keep the static pressure from rising to an unacceptable level.
Jackson Systems
Founded in 1997, Jackson Systems is celebrated as one of the fastest-growing companies in Indiana. Its mission is to provide the best-quality and most contractor-friendly control products and services in the industry. Jackson Systems serves customers worldwide as a leading direct-to-contractor zone control manufacturer and distributor. Combining the skills of its talented technical engineers and the customer service support of its sales team, Jackson Systems sets the standard for creating contractor-friendly products and available support teams to help its customers achieve success. Jackson Systems the direct choice for simple controls.
Silver Square Inc.
Founded in 2000, Silver Square Inc. is a creative, trusted full-service marketing firm. In case you haven't heard, Silver Square is known for hitting it out of the park, using funny as a business tactic, offering expert advice through content marketing, being brutally honest, exploiting social media and reveling in its clients' successes. Its clients include Bingham Greenebaum Doll LLP, Companion Animal Medical Center and Indiana Design Center. Visit http://www.silversquareinc.com or call 317-569-5977.
###