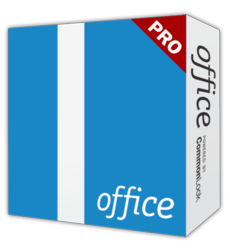 "Our customers started asking for PowerPoint support literally from the first moment we released our add-in for MS Word."
Washington, DC (PRWEB) August 15, 2012
It's now possible to create accessible, Section 508 compliant PDF documents and forms directly from Microsoft PowerPoint.
NetCentric Technologies, makers of the popular CommonLook suite of software and services for accessible electronic documents, today announced the immediate availability of CommonLook Office Standard and Professional 1.2 for MS Word and now, MS PowerPoint.
The software is available for both 32-bit and 64-bit versions of Microsoft Office 2007 and 2010.
Introduced in 2009, NetCentric's PDF Accessibility Wizard (now CommonLook Office) was quickly established as the leading desktop software for creation of accessible PDF files from Microsoft Word documents.
"Our customers have asked for PowerPoint support literally from the first moment," said NetCentric CTO and the creator of CommonLook Office Ferass ElRayes. "We're very happy to finally announce our support for Microsoft PowerPoint presentations in the new CommonLook Office," he said.
The new PowerPoint add-in provides Content Preparation checkpoints delivering accessibility features required by Section 508 but unavailable when creating PDFs from PowerPoint by other means.
Using CommonLook Office, users can enhance PowerPoint presentations with accessibility features completely unavailable in Microsoft PowerPoint itself such as heading levels beyond H1, style mapping, detection of overlapping objects, and more. NetCentric provides a detailed comparison of CommonLook Office vs. other PDF creation options from Word and PowerPoint.
Once Content Preparation is complete the Section 508 (1194.22) accessibility regulations are addressed checkpoint by checkpoint. Full support for accessible tables is included, and CommonLook Office makes it possible to manage reading-order in PDF files produced from PowerPoint presentations as well. PDF files generated by CommonLook Office are not only well tagged, they will also deliver good results in using the Reflow feature in Adobe Acrobat and Reader.
The add-in for Microsoft Word has also been upgraded, with new Content Preparation checkpoints, an assortment of interface enhancements and improved documentation.
"CommonLook Office is a unique product combining true ease-of-use with a comprehensive methodology that meets and exceeds current Section 508 requirements," said Duff Johnson, President of NetCentric Technologies. "For organizations with site licenses of Microsoft Office, CommonLook Office is a cost-effective and effective way to drive a massive jump towards realization of accessible document production objectives." he said.
Both Standard and Professional versions of CommonLook Office include support for both MS Word and PowerPoint, making CommonLook Office a natural partner to Microsoft Office. The Standard edition is suitable for authors who do not produce documents with complex tables or fillable PDF forms and have no interest in customizing their workflow. NetCentric provides a comparison of CommonLook Office Standard vs. Professional.
A trial license of CommonLook Office is free for seven days of unlimited use. A single workstation license of CommonLook Office Standard is $249 while CommonLook Office Professional is $599. Upgrade pricing is available for existing users of PAW. Highly favorable terms are available for site licenses, making CommonLook Office especially cost-effective when deployed to Microsoft Office users across the entire organization.
Learn more about CommonLook Office.
About NetCentric Technologies
http://www.commonlook.com
The leader in accessibility for PDF documents and forms, NetCentric's CommonLook suite of products are the most advanced commercially available tools for PDF document accessibility verification, correction and management while NetCentric's CommonLook-powered PDF remediation services are the most affordable, fastest and most comprehensive solution for high-volume PDF tagging in North America.
Active in document accessibility since the 1990s, NetCentric developed the first 3rd party tools for PDF accessibility management, releasing CommonLook PDF in 2003. NetCentric's President, Duff Johnson, started the first PDF accessibility service bureau in 2000 and has served as chairman of the US Committee for PDF/UA, the International Standard for accessible PDF technology, since 2005. NetCentric takes an active role in the development and promotion of ISO Standards for PDF technology via its involvement in the PDF Association, the professional organization for PDF software developers. Headquartered outside Ottawa, NetCentric Technologies maintains offices in Washington, DC.