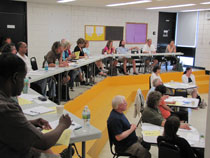 Having ADHD is like having a Ferrari brain with bicycle brakes.
Eastham, MA (PRWEB) August 14, 2012
Speaking before a room full of educators, psychologist and counselors at the Cape Cod Institute, located at the Cape Cod National Seashore, Dr. Edward Hallowell one of the nation's leading experts on ADHD, shared his unique approach on how to view the condition that is the most commonly diagnosed neurobehavioral disorder of childhood. According to the Center for Disease Control and Prevention, ADHD affects nearly one out of ten children between the ages of 4-17, or approximately 5.4 million children nationwide.
Attention-deficit/hyperactivity disorder (ADHD) is a neurobehavioral disorder that typically begins in childhood and often persists into adulthood, and is characterized by developmentally inappropriate levels of inattention and hyperactivity resulting in functional impairment in academic, family, and social settings.
A New Definition of ADHD
That's the official definition, but Dr. Hallowell prefers to look at it as a collection of traits instead. What's the difference? According to Dr. Hallowell, a trained MD, "It's very debasing to be told you have a disorder. Because medical school is all about pathology, we're trained to look for the defects and the emphasis is always on what's missing. It's all about misery and mental disease; we don't learn about joy and mental health." As a result, Dr. Hallowell says, "People in my profession create the notion that someone has a disease and by that definition, they attach low expectations to the patient." Dr. Hallowell is on a mission to change that and it starts with how the diagnosis of ADHD is communicated to patients and positioned to the world at large.
The Good News about ADHD
When Dr. Hallowell tells his patients about their diagnosis, he tells them he has good news, "You have a Ferrari brain, with bicycle brakes." When hearing the "diagnosis" presented in such an upbeat way, patients are often, for the first time, able to focus on their positive attributes versus their deficiencies. He also tells them about the all the successful entrepreneurs, artists, actors, writers, and doctors (including himself) who have ADHD. "When people leave my office they walk away with the feeling, 'We're champions in the making!'" exclaimed Dr. Hallowell. "I urge you to embrace a model that celebrates the strengths," he advised the rapt audience of educators and mental health professionals, attending the Cape Cod Institute's summer-long series of courses. "Who wants a deficit disorder?" he asks, "when they can have hope, optimism and cheerfulness."
Dr. Hallowell simply tells his younger patients that they will need to work on their brakes and he gives them strategies, or "brake fluid," to help them slow down their racing car. "You want your kid to know he has extra work to do, but if he does the work, the sky's the limit," says Dr. Hallowell full of enthusiasm. If managed properly, the traits can be turned into strengths.
Deficits are Strengths in Disguise
Dr. Hallowell calls for a different way of looking at some of the typical ADHD traits. Instead of deficiencies, they can be viewed as strengths or blessings in disguise. For example, "Distractibility is really an indicator of curiosity. Impulsivity is the flip-side of creativity, or put another way, creativity is impulsivity gone good," according to Dr. Hallowell. "The trait of hyperactivity is actually energy," Dr. Hallowell points out, "Which is not such a bad thing and comes in pretty handy at my age," he said with a broad smile.
The strength based approach to viewing and dealing with conditions like ADHD is starting to gain ground with educators. Forrest Broman, Publisher of The International Educator (TIE), a newspaper specializing in educational news and developments at international schools worldwide, feels strongly that Dr. Hallowell's approach needs to be embraced by parents, teachers and their ADHD children. "There are just too many examples of ADHD traits being put to creative use and professional success for Dr. Hallowell's message and program to be ignored," said Mr. Broman. "He is on to an approach that should revolutionize the treatment of children diagnosed with ADHD."
Prognosis Good
"Highly creative people pay a major price for their gift," Dr. Hallowell cautions. "It's an odd fact about talent that it's inextricably linked to challenges." Students find enormous challenges in school because most teachers still regard ADHD as a discipline problem and they are told that they need to work harder. This is what Dr. Hallowell refers to as the "moral diagnosis" because often students are told that they're lazy or simply not putting in enough effort. Once teachers begin to look at the deficits as actual strengths turned inside-out, kids will begin to thrive. Dr. Hallowell advises that "Children with ADHD need their parents' and teachers' help, but the good news is, they're remarkably good at bouncing back."
"International schools still have some work to do in this department," admits Mr. Broman, "but our role at TIE is to educate educators, and we want to help spread the word about Dr. Hallowell's positive approach."
For parents of kids with ADHD, there are plenty of reasons to feel optimistic about the future. Parents should encourage their children to think big, because as Hallowell says, for these high-energy kids, "The sky's the limit!"
The Cape Cod Institute is a summer-long learning program attended by health, education, and management professionals from all over the world who are seeking to enhance their practice and stay current in their fields. The Cape Cod Institute, now in its 33rd year, features internationally recognized leaders in the fields of psychology, education, and therapeutic practice who share with participants their expertise by offering world-class professional development opportunities in a relaxing casual atmosphere near the Cape Cod National Seashore.