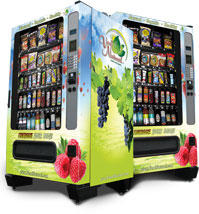 As a Maryland company, we are enthusiastic about these fine institutions adding healthy snacking to their vending options to offer more nutritious snacks and drinks to their communities."
Willliam H. Carpenter, Jr.
President, Vend Natural
Annapolis, Maryland (PRWEB) August 14, 2012
Many of the most notable institutions in the Baltimore area have embraced healthy vending and early results from machines sales indicate a strong appetite for the all-natural and organic snacks and beverages in new, state-of-the-art vending machines, announced Vend Natural (http://www.vendnatural.com).
Annapolis, Maryland-based Vend Natural, one of the fastest-growing healthy vending companies in the U.S., has installed machines in seven top institutions over the past several months, including University of Maryland at Baltimore, Loyola University, Notre Dame College of Maryland, Johns Hopkins Bayview Medical Center, University of Maryland Medical System's Upper Chesapeake Medical Center, Blue Cross Blue Shield of Maryland and Baltimore City Public Schools. These organizations are a model for the state and the country, which is facing skyrocketing rates of obesity for both adults and teenagers.
The Vend Natural state-of-the-art dual-zone machines installed in the Baltimore area and nationwide carry a wide selection of both refrigerated drinks and ambient temperature snacks such as all natural chips and popcorn, low fat health bars, organic fruit smoothies, natural coconut water and more. All of the products available through Vend Natural meet or exceed federal, state and school nutritional standards for calories, fat, vitamins, fiber, sodium and more. The machines accept cash, credit and debit cards and student cards as well and are remotely monitored via an internet-based, real-time inventory management system enabling efficient servicing and product replenishment.
Vend Natural, founded in California by company CEO Gil Sanchez and now headquartered in Annapolis, MD, is one of the fastest-growing healthy vending companies in the U.S. and was formed to address the declining health of our nation and skyrocketing teenage and adult obesity rates by providing healthier snacking alternatives to schools, hospitals and businesses. The company's mission is to support improved eating practices by offering healthy products that are easily accessible and affordable to everyone.
Commenting on the newly-installed machines, Baltimore native and Vend Natural President William H. Carpenter, Jr. said, "Baltimore is well known for its world class health care and research institutions. As a Maryland-based company, we couldn't be more enthusiastic about seeing these fine institutions add healthy snacking to their traditional vending options, to ensure that they are offering healthier, more nutritious snacks and drinks to their students, patients and visitors."
Vend Natural is the only healthy snacking company in the country that not only partners with business owners coast to coast, but also owns and operates its own machines on the west and east coasts. This enables the company to test new equipment and products before full roll-out and provide the most relevant training and customer service operation for its distributors.
About Vend Natural
Vend Natural is America's fastest-growing healthy snacking company and is based in Annapolis, Maryland. The company was inspired by the vision of helping to transform eating patterns by providing healthy snacking alternatives in convenient vending locations across America. Specializing in placements in schools, hospitals and businesses, Vend Natural currently operates more than 650 machines in 25 states and the District of Columbia with plans for significant growth over the next several years.
The company is known for its innovative and environmentally-sensitive vending machine design offering state-of-the art, dual temperature-zoned, energy efficient machines that hold a large variety of both natural organic snacks and beverages. Vend Natural is also known for its fresh, bright, signature machine graphics featuring large, appealing illustrations of grapes, raspberries and its tag line, "Snack Better. Live Better." Vend Natural was awarded Entrepreneur of the Year award in Maryland for 2010. For more information, visit http://www.vendnatural.com
# # #