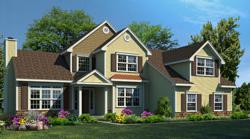 "Woodbury Junction has created elegant, spacious homes that offer tremendous value and a low-maintenance lifestyle not available anywhere else in Orange County."
Monroe-Woodbury, NY (PRWEB) August 15, 2012
Vertical construction of the gated neighborhood of Woodbury Junction in Monroe Woodbury, NY continues to take shape—with topping-off roofs and paving driveways, the delivery of nearly 40 new homes will be completed by early 2013. Homebuilder of Woodbury Junction, WP3, LLC has planted close to 200 trees along the belgium blocked streets to provide privacy and a pastoral setting for future homeowners. With period style lampposts and roundabouts located at most intersections, Woodbury Junction offers homeowners a neighborhood of secured tranquilty.
"As construction progresses, buyers are now able to see for themselves how great a neighborhood Woodbury Junction will be," said Theresa Budich, associate broker for BH&G Rand Realty and Sales Manager for Woodbury Junction. "We are very pleased to see how this community is coming along, and we are looking forward to so many new families moving into their new homes. The lifestyle we are offering in this community is unparalleled for Orange County."
The homes of Kensington Station at Woodbury Junction, the neighborhood for Active Adults, range from 1300 sq. ft. to more than 2000 sq. ft of living space appointed with modern amenities. All floorplans includes a luxurious first floor master suite with walk-in closet, custom kitchen, fireplace and hardwood floors throughout the first floor. Palisades Ridge at Woodbury Junction, the community for families with a growing family, offers 4-5 bedroom homes with grand features as welcoming foyers, great rooms with fireplace, gourmet kitchens, optional bedrooms and bonus rooms, as well as a plethora of standard features expected of a magnificent luxury home. Furthermore, all homes in Woodbury Junction include two-car garages and full basements.
"There are many prospective buyers who want to move into their first home, but have been priced out of the luxury single-family market in boroughs of New York City, as well as Bergen and Rockland Counties," stated Bill Brodsky, principle of WP3,LLC. "Woodbury Junction has created elegant, spacious homes that offer tremendous value and a low-maintenance lifestyle not available anywhere else in Orange County."
The community is conveniently located less than one mile from the New York State Thruway and offers direct access to New York City as well as Rockland, Westchester and Bergen Counties. In addition, Orange County, with its eclectic villages and the Woodbury Common Outlets, offers some of the finest shopping and dining opportunities in all of New York.
Monroe-Woodbury offers an award winning school district as well as a town recreational park system. Woodbury Junction is in close proximity to several golf courses and equestrian center . For more information, visit http://www.woodburyjunction.com. The Sales Center is open every day from 11am-4pm except Wednesday and Thursdays. To schedule a private appointment, call Theresa Budich at 1.800.687.0028.
WP3,LLC founded by principle William Brodsky with a mission to create homes with outstanding quality, value and appeal.
Better Homes and Gardens Real Estate - Rand Realty, founded in 1984, is the No. 1 real estate brokerage in the Greater Hudson Valley with 25 offices serving Westchester, Rockland, Orange, Putnam and Dutchess counties.