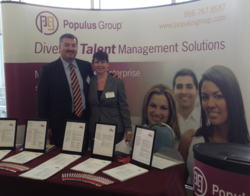 Troy, MI (PRWEB) August 15, 2012
Populus Group, a certified Minority Business Enterprise (MBE) and talent management solutions provider, will be hosting a webinar in conjunction with the PA-NJ-DE Minority Supplier Development Council on August 16, 2012 at 2pm EST.
Maria Goyer, VP of Business Solutions at Populus Group, a Northwest MSDC certified MBE, will be speaking about the landscape of engaging Independent Contractors (ICs). This one hour webinar will educate the audience on the current landscape and legislation, business risks, and how to properly engage with Independent Contractors, click here to register.
The use of Independent Contractors, ICs to provide various types of services continues to grow in most industries. As a result, the number of Independent Contractor misclassifications has also increased. Currently, Federal and State agencies, such as the Internal Revenue Service and the Department of Labor are actively auditing industries to ensure they properly classify and engage with their ICs.
Populus Group will also be speaking about its Integrated Workforce Management Framework (IWMF). This comprehensive suite of flexible and customizable workforce engagement solutions quickly enhances customers' abilities to attract and retain top talent while mitigating risks when engaging contractors and vendors.
Populus Group's IWMF solutions range from functioning as an overall Workforce Management Solutions provider, including Master Service Provider (MSP) programs, to offering clients select services such as Professional Payroll Services, Staffing and Recruiting Solutions, Independent Contractor Engagement Compliance Services, and Immigration Services. Populus Group works closely with each of its clients to develop a program that addresses their specific contingent workforce needs.
"We are excited to host this webinar and partner with the PA-NJ-DE Minority Supplier Development Council," stated Robert Herrera, president of Populus Group. "Risk mitigation is top of mind for most companies in today's business climate. We are excited for the opportunity to give back by educating the group on the idiosyncrasies and risks associated with improperly engaging Independent Contractors, and more specifically, share what we've learned to avoid or mitigate associated risks. We're confident there will be some valuable takeaways that the audience can apply to positively impact their business."
About Populus Group
Founded in 2002, Populus Group is a privately held Minority Business Enterprise (MBE), certified in 50 states, providing diverse talent management solutions. Corporate headquarters are located in Troy, Michigan with additional office locations in Seattle, Chicago, Baltimore, Atlanta, Philadelphia, Phoenix, San Francisco, and Portland. Populus Group has been successful at helping clients meet their diversity spend initiatives, while at the same time driving innovation and ensuring that the overall change management is seamless to the client's entire organization. To learn more about Populus Group, visit http://www.populusgroup.com.
###
Contact: Shannon Kirk, Populus Group Director of Marketing
Phone: 425-372-1251
E-mail: skirk(at)populusgroup(dot)com