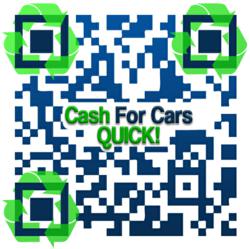 CashforCarsQuick.com pays the most cash for cars and trucks in San Diego!
(PRWEB) August 23, 2012
Environmentally responsible cash for cars San Diego service for Cash for Cars Quick has been enhanced once again within a brief tenure of less than three months in San Diego. It may be recalled that the company recently introduced new service partners and a brand new call center in the city to provide better service to their prospective customers in this region. They have now introduced an excellent price calculator mobile app to help their customers find out the current price of their abandoned vehicles before selling them. The app with excellent features considered several market related factors to find out the most accurate price for any automobile. Cash for Cars Quick came to limelight recently because of their advanced techniques of junk automobile disposal and recycling without causing any damage to the environment. The owners of discarded vehicles can earn a handsome amount of cash by selling their cars to Cash for Cars Quick. Find out more about the most recommended cash for cars San Diego service by visiting, http://cashforcarssandiego.cashforcarsquick.com.
Excellent customer service has always been Cash for Car Quick's forte. Unlike many other cash for cars quick San Diego service providers, they take all possible measures to offer a hassle free selling process to their cars. The buyers are not required to wait in long queues or fill up lengthy forms to avail their service. Their junk cars are picked up and payments are made within a few hours in most occasions. Their commitment to offering superior customer service and safeguarding the natural environment has quickly made them the most trusted junk vehicle disposal company in San Diego. The company also makes a positive impact on the price of automobile raw materials by recycling almost 75% of the components of a junk cars and trucks. Most people are unaware of the dangers associated with junk cars and trucks. From old batteries that can leak acid to fluids that end up in the storm drains. Those storm drains flow into Mission Bay and the Ocean. For information in regards to the cash for junk cars San Diego service, contact the expert junk car buyers from Cash for Cars Quick.
When asked about the lightening fast progress of the company in San Diego, the CEO of Cash for Cars Quick William Leonard said, "Unfortunately, too much damage has been done by decades of irresponsible junking of automobiles. Therefore, our focus is to provide speedy service so that we can serve more customers per day. The launch of the mobile app is a small step towards achieving that goal".
Professional SEO experts are used by Cash for Cars Quick to help assist the company with internet marketing to promote the message about the importance of using reputable cash for junk cars San Diego service, if someone is considering selling their junk car or truck. Cash for Cars Quick continues its online presence by offering an instant quote over the phone, and regularly posts auto recycling information on the company blog and social media pages. This information along with instant pricing the company hopes to attract more San Diego California residents looking to sell their vehicle. To read more on the company's cash for cars San Diego Facebook visit, http://www.facebook.com/CashForCarsSanDiego
About the Company: Cashforcarsquick.com is a growing cash for junk cars service that offers junk car recycling and that provides a high return to the car and truck owners in San Diego California and throughout the United States. The company and its partners follow environmentally friendly disposal practices to safeguard the future of the planet. To learn more about the San Diego California service visit the company website, http://cashforcarsquick.com/cash-for-cars-san-diego
Contact:
William Leonard
Phone: 888-862-3001
Email: info@cashforcarsquick.com