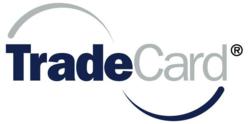 "TradeCard provides an automated solution from purchase orders through settlements and chargebacks. Our suppliers have the resources they need to process and deliver orders on time; we have the tools necessary to ensure visibility and manage deductions."
New York, NY (PRWEB) August 14, 2012
TradeCard, Inc., the supply chain collaboration and global trade platform used by 10,000 retailers, brands, manufacturers and service providers, announced today that Perry Ellis International, Inc. (PEI) has extended its TradeCard footprint in two categories. First, they have expanded TradeCard's Procure to Pay™ solution to their United Kingdom operations and secondly, they have selected TradeCard's Managed Adjustments functionality to more effectively manage supplier chargebacks. The two moves are part of the global apparel company's signing a three-year renewal reaffirming its commitment to collaborate with trading partners using TradeCard's Procure to Pay™ solution.
"We utilize an extensive supplier network, so visibility and management around the logistics of product and payments is critical," said Stephen Hagamon, Vice President of Shared Accounting Services for Perry Ellis. "TradeCard provides an automated solution from purchase orders through settlements and chargebacks. Our suppliers have the resources they need to process and deliver orders on time; we have the tools necessary to ensure visibility and manage deductions."
"Automation and integration of physical and financial sides of the supply chain are essential to driving business growth," said Joe Rodgers, Senior Vice President of Global Sales at TradeCard, Inc. "Perry Ellis International has enhanced its supply chain strategy to improve margins and cash flow by eliminating inefficiencies across the entire supply network. Automating workflows and processes for procurement, chargeback management and customs invoices enables a faster, more efficient and better run supply chain."
Perry Ellis leverages TradeCard's Procure to PayTM to orchestrate transactions in its extended supply chain, enabling the following strategic benefits:

A standardized worldwide "green" sourcing environment which eliminates paper and manual tasks
A single system to facilitate enhanced processes and reporting for its entire supply base
Improved invoice interface for payables
A flexible cloud-based system to support growth without adding resources
Perry Ellis first began using TradeCard in 2008 to better manage procure-to-pay processes and automate transactions with trading partners.
About Perry Ellis International
Perry Ellis International, Inc. is a leading designer, distributor and licensor of a broad line of high quality men's and women's apparel, accessories and fragrances, as well as select children's apparel. The Company's collection of dress and casual shirts, golf sportswear, sweaters, dress pants, casual pants and shorts, jeans wear, active wear, dresses and men's and women's swimwear is available through all major levels of retail distribution. The Company, through its wholly owned subsidiaries, owns a portfolio of nationally and internationally recognized brands, including: Perry Ellis(R), Original Penguin(R) by Munsingwear(R),Jantzen(R), Laundry by Shelli Segal(R), C&C California(R), Rafaella(R), Ben Hogan(R), Grand Slam(R), Savane(R), Axist(R), Manhattan(R), Farah(R),Cubavera(R), the Havanera Co.(R), Centro(R), Solero(R), John Henry(R), Munsingwear(R), Natural Issue(R), Pro Player(R), Axis(R), Tricots St. Raphael(R), Gotcha(R), Girl Star(R), MCD(R), Mondo di Marco(R), Redsand(R), Anchor Blue(R) and Miller's Outpost(R). The Company enhances its roster of brands by licensing trademarks from third parties, including: Nike(R) and Jag(R) for swimwear, and Callaway(R), PGA TOUR(R) and Champions Tour(R) for golf apparel. Additional information on the Company is available at http://www.pery.com.
About TradeCard, Inc.
Since 1999, TradeCard, Inc. has transformed global supply chain collaboration by boosting visibility, cash flow and margins for over 10,000 brands, retailers, suppliers and service providers operating in 78 countries. TradeCard delivers a cloud-based network that enables complex, multi-enterprise sourcing transactions across multiple layers of the supply chain. More than 45,000 individual users leverage the TradeCard Platform to streamline transaction flows, from purchase order through production tracking, shipment and payment. Embedded financial services throughout the supply network reduce capital costs and minimize risk. Multi-enterprise collaboration on the platform delivers visibility into the movement of goods, from raw materials to the store shelf. TradeCard's on-the-ground trade experts around the world allow entire supply networks to rapidly join and drive value through the platform.
The world's leading retailers and brands, including Levi Strauss & Co., Columbia Sportswear, Guess and Rite Aid, leverage the TradeCard Platform and its member network for sourcing and global trade. TradeCard, Inc. is headquartered in New York City, with offices in San Francisco, Amsterdam, Hong Kong, Shenzhen, Shanghai, Taipei, Seoul and Colombo. TradeCard is located online at http://www.tradecard.com.
# # #