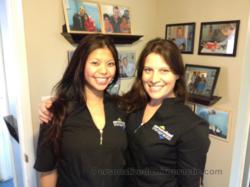 Lifting a heavy object with a subluxated spine obviously increases your chances of getting a herniated disc more than if you didn't have a subluxation and lifted that heavy object
San Diego, CA (PRWEB) August 14, 2012
Can a chiropractor help with a herniated disc? "Most people are not aware what a herniated disc is: an intervertebral disc is made up of an outer, fibrous ring, and a central soft portion. The disc itself receives nourishment through the motion of the vertebrae above and below it moving and "squishing" the blood and fluids through the disc. If this movement does not occur, the outer ring can dry and tear which allows the soft portion of the disc to bulge out. This is what is commonly known as a herniated disc, also called a slipped disc, bulging disc, or disc protrusion," explains Dr. Walcher. "The best way to prevent a herniated disc is to take care of your spine and Nervous System," adds Dr. Rob Walcher.
What are the causes of a herniated disc and how does one prevent them? Physical stress, Repetitive stress, and subluxations can cause a herniated disc. It could be as much as a fall, lifting heavy weight or a car accident that can be the root of a herniated disc. A subluxation in the spine is another cause of a herniated disc. To better understand what a subluxation is, San Diego Chiropractor Dr. Walcher explains. "A subluxation is when one or more of the bones of your spine (vertebrae) move out of position. The result can be a herniated disc. If this creates pressure on spinal nerves, problems will result. This pressure or irritation on the nerves causes the nerves to malfunction and interfere with the signals traveling over those nerves," says Dr. Rob Walcher. "Lifting a heavy object with a subluxated spine obviously increases your chances of getting a herniated disc more than if you didn't have a subluxation and lifted that heavy object," concludes Dr. Rob.
How does chiropractic care help reduce or correct subluxations, which ultimately can cause herniated discs? "A Doctor of Chiropractic is trained to locate subluxations, and reduce or correct them. This can be accomplished through a series of chiropractic adjustments designed to correct the vertebral subluxations in your spine. Chiropractors are the only professionals who undergo years of training to be experts at correcting subluxations. There are methods to decompress the vertebrae which allow the disc the ability to heal itself. Subluxation is your body's way of adapting to stress which over time weakens the joint and all around it including where the particular nerve is communicating with the muscles, organs or pain sensory," explains Dr. Walcher. "Not all herniated discs cause pain or discomfort. It is when the bulge puts pressure on the exiting spinal nerve that pain, or an inflammatory reaction, will occur. It is therefore very important to have a full understanding of what is causing the pain," states Dr. Rob Walcher. People who are looking for a chiropractor for a herniated disc should visit Personalized Chiropractic in San Diego and if one is out of the area please visit the blog page for more information.
About Dr. Rob Walcher:
Dr. Robert Walcher D.C. is a graduate of Palmer College of Chiropractic West located in San Jose, California. He received the Palmer's Clinical Excellence Award. He is the proud founder and owner of Personalized Chiropractic located in Pacific Beach. At the age of 20, Dr. Walcher experienced the miracle of Chiropractic care first hand when he suffered a severe sprain strain of his Lumbar spine after an intense workout. He tried everything to correct his injury except Chiropractic care. Nothing seemed to work so after 30 days he decided to give Chiropractic a try. You can say that a 5-minute adjustment changed his life forever. He knew then Chiropractic was going to be his career. Dr. Robert D. Walcher created Personalized Chiropractic with one purpose in mind: To help as many people through Chiropractic care as possible. While His main focus, as a Chiropractor in San Diego is Chiropractic Care, he also seeks to alert his patients in the basics of health, nutrition and an overall sense of well-being.