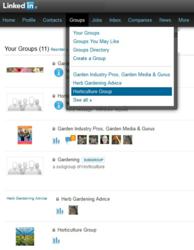 Having a LinkedIn account, not only for yourself, but also for your lawn and garden business is essential in today's market. It's the professional's Facebook says Susan McCoy
Philadelphia, PA (PRWEB) August 14, 2012
Garden Media continues to provide lawn and garden businesses with advice on how to grow a garden industry business with this social media e-book: "Networking 101: Garden Marketing Tips and Tricks for Using LinkedIn."
"Having a LinkedIn account, not only for yourself, but also for your lawn and garden business is essential in today's market," says Susan McCoy, founder of Garden Media, the leading public relations firm in the lawn and garden industry.
With 160 million members, LinkedIn is known for its ability to connect and showcase companies, associations, garden centers and individual professionals across the globe. "It's the professional's Facebook," explains McCoy, who is a power user with more than 1,000 connections.
In this free e-book by Garden Media, companies in the lawn and garden industry learn how to create personal and company profiles, tips for getting started, and the extra features LinkedIn offers to extend business brands and engage with key audiences.
"LinkedIn has built this vast community of professionals and provides tools to help members engage and interact with each other. I use it every day and have made some valuable connections. The trick is taking the first step and investing your time to make it productive," says McCoy.
In the garden marketing focused e-book, professionals learn that it's not just about creating a company profile. Tips are offered on what important information should be included in the profile, how to connect with customers and other professionals in the industry and how to get invaluable recommendations," adds McCoy
The Garden Media e-book also has tips on how to stay active in LinkedIn Groups, status updates and discussions. Breeders, growers and garden centers can connect directly with customers through groups, answering questions and offering calls to action.
"From soil health and seed companies to garden centers and landscape designers, there are groups for just about everything. Search for keywords like "garden" and "seeds" in groups and join away," says McCoy
Through this e-book, Garden Media aims to educate lawn and garden businesses on the features and tools of LinkedIn, network with customers and professionals, market products and services, and develop successful brands.
To download the free e-book click here. And for more information on Garden Media visit http://www.gardenmediagroup.com.