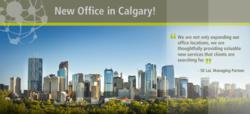 We are thoughtfully providing valuable new services that clients are searching for. - SK Lai
Calgary, AB (PRWEB) August 15, 2012
Integral Group is pleased to expand its service area with the launch of a fifth Canadian office in Calgary, Alberta. The centrally located Calgary Design Studio will provide mechanical, electrical and performance engineering consulting services to clientele in Western Canada and the American Midwest.
Managing Partner, SK Lai is excited about the new office and the additional depth of services offered – performance engineering by the Calgary team. He stated, "We are not only expanding our office locations, we are thoughtfully providing valuable new services that clients are searching for. By working with the leaders in this field, we will be able to move forward and deepen our scope of services."
Integral Group staff members are widely regarded as innovative leaders in building system design, and each office team has experience working on projects across the globe. Currently working at the new Calgary office is Integral Group Project Manger, Brent Poirier, CET, GSC, who has over a decade of project management experience in building engineering. The new office will be strengthened with the addition of established leaders and key technical team members.
Specializing in the design of simple yet elegant, cost-efficient building systems for high performance building environments, Integral Group recognizes the challenge of accelerating critical change in sustainable building practices. By strategically adding services and office locations, Integral Group will be able to drive real change in the industry and ultimately for the environment.
About Integral Group:
Integral Group is an interactive global network of design professionals collaborating under a single deep green engineering umbrella. The organization provides a full range of building system design and energy analysis services, with a staff widely regarded as innovative leaders in their fields. Integral has offices and affiliates throughout North America and around the world.
Integral Group has contributed to 24 LEED® Platinum Certified, 26 Net Zero and 4 Living Building Challenge projects.
To learn more please visit http://www.integralgroup.com.
Calgary Design Studio
Brent Poirier, CET, GSC – Project Manager
1214 9th Avenue SE, 2nd Floor
Calgary, AB Canada T2G 0T1
T 587.353.5141
E: bpoirier(at)integral-group(dot)ca