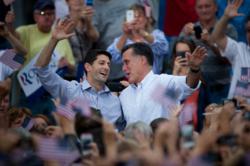 (PRWEB) August 13, 2012
Republican presidential presumptive nominee Mitt Romney and Wisconsin Congressman Paul Ryan, Romney's choice for vice-president, made an appearance at the homecoming rally at the Waukesha expo, Sunday.
Ryan wiped away tears as he stepped on the stage with Romney in front of an enthusiastic crowd. Organizers said they had as many as 10,000 people in attendance.
In many ways, this was a Ryan family affair, the candidate saying hello to his mother, Betty, from the stage, while also speaking warmly about his wife, Janna, and children, Liza, Charles and Sam. He also joked that half the crowd was made up of the extended Ryan family.
A day after he was named Mitt Romney's running mate and vaulted on to the Republican Party's biggest political stage, Ryan spoke of his family's deep roots in Wisconsin and his ties to Janesville, where "we live on the block I grew up on."
"My veins run with cheese, bratwurst, a little Spotted Cow, Leinie's and some Miller," he said. "I was raised on the Packers, Badgers, Bucks and Brewers."
"I like to hunt here, I like to fish here, I like to snowmobile here. I even think ice fishing is interesting. I'm a Wisconsinite through and through."
Despite dark skies that threatened rain, the weather remained pleasant for the early evening appearances by Ryan and the GOP's presumptive presidential nominee, Romney. The sun peeked through clouds to light the stage during most of the 26 minutes of speeches by the newly minted Republican ticket.
For more photos and videos from the rally, check out jsonline.com/paul-ryan.