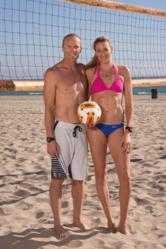 I hope all of our readers find true inspiration from this family's courage and openness in embracing recovery. -Steve Diogo
Chicago, IL (PRWEB) August 14, 2012
Through a busy tournament schedule and helping his wife, Kerri Walsh Jennings, prepare for her fourth Olympic Games, volleyball star Casey Jennings has worked toward bringing his family to a place of flourishing happiness and success while maintaining his sobriety.
Success is definitely a word that describes this all-star couple.
This month, Kerri Walsh Jennings claimed her third Olympic gold medal in women's beach volleyball. Walsh-Jennings took gold in an all-American match with her volleyball partner, Misty May-Treanor. The win is just another peak in the Jennings' family climb to the top.
Casey and Kerri attribute the success in their family and professional lives to the triumph of their family unit, now that Casey has embraced recovery.
Aug. 10, 2009 — that's the day Casey decided it was time seek treatment for his addiction issues. He's now more than three years sober, and the couple discusses their inspiring story of struggle and victory in an exclusive interview with Renew magazine.
"After 15 days, the sincerity of (rehab) really started to sink in and the numbness started to fade away," Casey tells Renew. "I started to lose the numbness every day after that. It turned from working on me, me, me and it evolved to where that seed of love I had for my wife began to grow again like it had at the time when we got married ... I fell in love with myself again, my wife, and I wanted to be a great dad for my child."
The Jennings are also helping to end the stigma of recovery. The stereotype of addiction and recovery —and a family entrenched in the cycle — doesn't lend to an all-star professional athlete and Olympic three-time gold medal winner. But that's the reality. Addiction discriminates against no one, and the Jennings show that it is possible to thrive in recovery to extensive lengths.
"This story has been in the works for a long time," says Renew Editorial Director Steve Diogo, "so it was an absolute thrill watching Kerri and Misty claim the Gold, knowing we had the honor of telling this remarkable family's story. I hope all of our readers find true inspiration from this family's courage and openness in embracing recovery."
Now, Casey says he's a completely changed man thanks to his sobriety. Instead of partying until 6 a.m., he regularly wakes up at 5 a.m. to paddle surf. Instead of retreating from his family on a Friday night, he happily watches Disney movies with his wife and two young sons. Recovery saved his family.
To read the exclusive interview with Casey and Kerri Walsh Jennings, visit http://www.RenewEveryDay.com to subscribe today to Renew magazine in time to receive the September/October 2012 issue.
Written by top addiction and wellness specialists, as well as those who face the daily challenges of real-world recovery, Renew magazine inspires readers to create and embrace a lifestyle of sobriety.