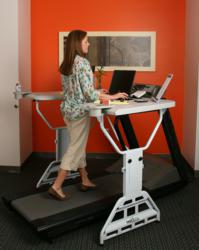 TrekDesk treadmill desks are in use on campuses across the country.
Washington, D.C. (PRWEB) August 13, 2012
Universities often embrace new ideas more readily than the general population and that has certainly been the case with the TrekDesk Treadmill Desk. Before TrekDesk was available in the marketplace university professors who had read about it were touting the health advantages of its simple solution which turned any existing treadmill into a walking work station. TrekDesk treadmill desks are in use on campuses across the country as a result and are often used in studies in addition to university offices. This week The Chronicle of Higher Education published an article on the growing trend of active offices and treadmill desk use featuring a photo of the TrekDesk Treadmill Desk in action.
Noting that academic scholars were the first to sound the alarm regarding the health hazards of sitting the Chronicle focused on campus wellness initiatives that are encouraging movement during the work day. Read the entire article here: http://bit.ly/NcDY5p.
"Nearly every university featured in the article uses TrekDesk Treadmill Desks," stated TrekDesk CEO Steve Bordley. "University researchers and professors were the first to recognize the benefits of the TrekDesk and we are gratified to see so many TrekDesks in use in campuses across the U.S. and other countries as well."
There is a growing interest in the field of "sedentary science" which is warning that the health hazards of sitting cannot be undone with the recommended 30 minutes of daily exercise. Numerous studies from universities in the United States, Canada, Australia, and Europe are making the distinction between exercise and movement and stressing the need to incorporate both into daily activity with an emphasis on movement.
Designed to fit any existing treadmill, TrekDesk treadmill desk is an affordable, full sized, height adjustable workstation that allows individuals the opportunity to gain the necessary amount of exercise daily to maintain health, prevent disease, strengthen muscles, boost mood and productivity, without requiring additional time during the day or extra motivation. Wondering how to workout at work? TrekDesk offers the solution.
TrekDesk treadmill desk is currently available for sale online at http://www.trekdesk.com.