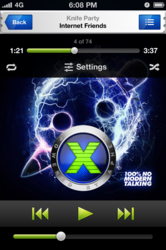 The Audio Xciter app brings musical detail to life, no matter what style of music you're listening to. You will hear increased clarity, along with space and detail, that will impress anyone.
--- Alan Parsons, legendary musician and record producer
BURBANK, CALIF. (PRWEB) August 15, 2012
Aphex, a leader in audio enhancement technology for more than 35 years, recently announced Audio Xciter (TM), the first audio app that dynamically improves the quality of music on mobile devices through a proprietary Xciter digital signal processor (DSP). In just over one month since its July 9th debut, Audio Xciter has been downloaded by more than 50,000 music lovers and is receiving rave reviews from journalists and users alike.
Users reviewing the app in the iTunes Store are impressed with the improved sound quality that Audio Xciter delivers:
"Finally music that isn't cramped and tinny. This really worked. It opened up the music and gave it depth. For a small investment my whole music library got a new life. I've tried others and they didn't cut it," said Emger.
"I was skeptical at first so I was thankful for the free minutes of playback in the app so I could test it out. Much to my surprise it works great, boosts the quality of my music," said iVinnyBones.
"I have never seen as many 5 star ratings for an app before this one and the reviews are 100% right in this case. The difference in your music is beyond compare," said mekeithwhoyou.
In coordination with the 2012 Backstage Artist Lounge (TM) Tour, Audio Xciter brand ambassadors will demonstrate the app for music lovers at the following events:

Legendary musicians such as Paul McCartney, Bruce Springsteen and Led Zeppelin and producers of Kanye West, DMX and Bruno Mars all have relied on the Aphex technology behind Audio Xciter to record and master songs for years. Now music enthusiasts are experiencing the original sound quality created in-studio through the free Audio Xciter app.
"Heavily compressed digital music files reduce sonic performance in music recordings," said David Wiener, CEO of Aphex. "We've leveraged our professional studio technology and created Audio Xciter to restore the detail, richness and spaciousness to your audio experience. All the musicians and producers we work with feel this is a revolutionary product for mobile music."
"The Audio Xciter app brings musical detail to life, no matter what style of music you're listening to. You will hear increased clarity, along with space and detail, that will impress anyone," said Alan Parsons, legendary musician and record producer.
The free Audio Xciter app allows 15 minutes of enhanced playback per day. Users have two upgrade options: Audio Xciter Basic ($2.99) removes the time restriction and Audio Xciter Studio ($4.99) allows users to fine-tune the Xciter DSP settings for a truly custom experience. Audio Xciter can be purchased through iTunes for iOS and will soon be available at the Android Store and Amazon.com for Android devices.
A portion of the proceeds from the sale of Audio Xciter will go to Respect the Music, a nonprofit organization supporting musical education and immersion.
Additional information is available at http://AudioXciterApp.com.
About Aphex
Founded in 1975, Aphex is an innovator of audio enhancement technology, and a leading manufacturer of high-quality dynamics and signal processing products for the professional audio, broadcast, fixed installation, musical instrument, touring-sound and home-recording markets. Aphex is omnipresent at major live broadcast events where sound control is crucial – the Oscars, Grammy's, and CMA's, to name a few. Aphex is a DWV Entertainment company. For more information, visit http://www.aphex.com.