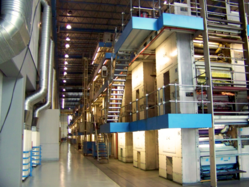 "We are truly a Reliability Centered Maintenance operation. The maintenance department is responsible for the availability of our presses any time they are called upon."
Vancouver, BC, Canada (PRWEB) August 15, 2012
Pacific Newspaper Group can print 160 page broadsheet products directly from their presses without pre-printing and is on of a very limited number of newspaper printing facilities practicing this amazing feat.
To accomplish their goals, the Maintenance and Planning crews rely heavily on the Computerized Maintenance Management System: Web Work (http://www.tero.ca).
-- The Burden of Maintenance --
With no room for error, the reliability of all production equipment is paramount and this heavy burden lies squarely on the maintenance department. For the maintenance crew at Pacific Newspaper Group this is nothing new. Since 1898 when The Province daily was first produced and in 1912 when The Vancouver Sun daily was added, the maintenance crew has been preparing the Newspaper Groups' assets for the race.
The 28 man maintenance crew ensures the pre-press, pressroom and post press equipment is operating at peak efficiency, each day, to achieve their overall objective of reducing production costs and ensuring 100% reliability.
"Our maintenance team is one of the most experienced group of people I have had the pleasure to work with. We are all focussed on our common goal and rely on each other as members of a cohesive team", said Mr. Payam Farahbakhsh, Engineering Manager.
The maintenance crew at Pacific Newspaper Group is a highly trained team that performs almost all maintenance and repair functions internally throughout the facility. There is little reliance on outsourced repair companies which has tremendous benefits. The cost of ownership of equipment is significantly reduced and there is literally no waiting for services.
"As a result of using our own internal resources for equipment repair we found that the group has a greater sense of ownership of the equipment and a tremendous amount of pride in our abilities to perform under pressure", adds Payam Farahbakhsh.
-- Speed, Precision & Reliability --
For a typical Friday publication, with two big newspapers, the Pre-press department uses approximately 950 printing plates and 214 non-printing plates. Electronic files, which are used to create accurate aluminum plates are received from remote offices via 2 dedicated fibre optic cables. As part of the environmental initiatives at Pacific Newspaper Group, all aluminum is recycled.
Pacific Newspaper Group utilizes 4 MAN Roland Colorman S presses, built in Augsburg Germany, to accomplish the daunting task of producing some 350,000 copies of newspaper nightly. The presses are capable of producing 160 page broadsheet newspaper, including 64 pages of full process color for advertisements or photos and another 64 pages with "spot" or highlight colors.
Seven FMC automated guided vehicles (AGV's) deliver rolls of newsprint to the real-stands beneath each press and are controlled by a computer and guide wires in the floor. Every night up to 160 rolls may be used. The AuroSys roll handling system has two roll-stripping stations and two roll-preparation stations that ready the newsprint rolls for automatic pasting on the reel-stands.
An automated webbing-up device threads each "web" of newsprint into each press, all the way from the roll on the reel-stand up to the folder formers.
Altogether, the facility utilizes 18 printing towers, with a total of 124 printing couples. In addition, Pacific Newspaper Group operates 4 rotary drum folders (one per press) to achieve its printing goals and deadlines. The facility also utilizes rotary drum folders, which allow for the production of high pagination newspaper at elevated speeds. The Bek ink delivery system delivers as much as 1,000kg of black ink and 900kg of color ink each production night.
Speed and precision of intricately woven machinery work at amazing speeds each night ensuring morning readers have their papers by dawn. The pace is unrelenting and for three hours each and every night Pacific Newspaper Group is running at lightening speeds to the finish line thanks to the tireless efforts of the maintenance crew.
-- A Proactive Approach --
With its 7 day a week operation and very limited non-printing days (no more than a total of 5-6 non-consecutive days, such as Christmas, etc.) and with little redundancy, Pacific Newspaper Group relies heavily on their Web Work CMMS(by Tero www ter.ca) and the reporting features allowing them to plan and execute a stringent maintenance schedule. At the present about 70% of their work is planned one week or more in advance, about 20% is planned within 1 to 5 days, and these are classified as predictive maintenance. Less than 10% of their work is reactive. However, that is in pure statistical terms and not every reactive or breakdown qualifies as a critical one. Less than 1% of their work qualifies as critical breakdowns, which may cause operational downtime.
The Web Work CMMS, first implemented in 2001, maintains the entire enterprise of Assets, Spare Parts Inventory, Preventive Maintenance Schedules and a complete Procedure Library.
The Web Work CMMS advanced reporting system is a critical component to the Newspaper Group's operation because it provides real-time & historical information to department managers for key decision making. In 2009, Web Work was up-graded to include Dashboard Reporting and Key Performance Indictors (KPI's) so the maintenance team could directly monitor and control performance and improve overall equipment effectiveness.
The maintenance staff, consisting of 14 Electricians and 14 Machinist/Millwrights, are all highly trained tradesmen performing over 90% of work throughout the plant. Pacific Newspaper Group relies on internal labour for maintenance and project work instead of contract labour and all work is recorded in the Web Work CMMS. The maintenance crew work on 2 shifts with 8 staff on nights and 20 on days. The majority of maintenance work is performed during the day shift to ensure the presses and other assets are ready for the night run.
The Web Work CMMS is installed locally and is available throughout the entire plant via any terminal or mobile device to maintenance crew with proper security access thanks to its inherent web based architecture. Maintenance staff regularly access the Web Work system to review equipment history, run quick reports or review spare parts information before performing repairs.
When Pacific Newspaper Group embarks on an upgrade project they have to consider that each and every night production must continue. Planning, scheduling, construction and commissioning are all subject to the daily production of the Newspaper Groups' products. Web Work is relied upon to ensure that manpower and materials are properly planned and scheduled.
-- Quality & Waste Reduction --
The maintenance crew at Pacific Newspaper Group embraces their key role in production and perform the majority of daily preventative and routine maintenance in-house. Their Web Work system, provides critical information regarding their assets, inventory and repair history to complete each task efficiently.
"We are truly a Reliability Centered Maintenance operation. The maintenance department is responsible for the availability of our presses any time they are called upon. This is achieved by closely monitoring the needs of operations, so that neither quality nor maintenance costs are compromised. The maintenance department works closely with operations, to meet other objectives, such as quality requirements, waste prevention, and more", said Payam Farahbakhsh.
The management team has developed its own RCM program , based on production needs and available labour resources.
Communication between operations, production and maintenance is critical to the success of
Pacific Newspaper Group's performance. Their Web Work CMMS assists with planned maintenance and helps minimize breakdowns. Weekly maintenance planning meetings are held to ensure all departments, which include production and IT, are aware of each others' efforts. Plans and tasked are entered and managed within their CMMS for cost tracking, reporting and evaluations.
-- Going Forward --
Pacific Newspaper Group is constantly looking for new ways to use Web Work to improve the maintenance function. The most recent project for Web Work at Pacific Press is a new method of electronically storing and managing Worker's Compensation Board of BC (WCB) compliancy details for specific types of work. Web Work will store WCB compliancy items with specific stored procedures that can be assigned to PM and corrective work orders. The WBC details are then displayed and printed on work orders thereby advising maintenance workers on the job.
Stayed tuned for the next press release from Tero and Pacific Newspaper Group for more details.
The Web Work CMMS by Tero is the most advanced browser based Computerized Maintenance Management (CMMS) system available today. (http://www.tero.ca)
Web Work is available as a Hosted (Saas) system or for installation and integration into your corporate network & servers. Web Work is a true web based CMMS that runs on any browser and Mobile devices.