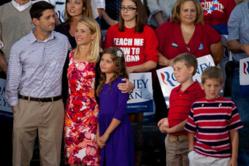 (PRWEB) August 13, 2012
U.S. Rep. Paul Ryan took his wife, Janna Ryan, ice fishing on their first Valentine's Day as a married couple.
Paul Ryan took his bride to the place he proposed to her, Big St. Germain Lake in Vilas County, where they ice fished in February 2001, a few months after their wedding the previous December. She told the Milwaukee Journal Sentinel that she was new to the sport of ice fishing but enjoyed it.
Paul Ryan said in a 2009 interview with Journal Sentinel reporter Craig Gilbert that he and his future wife vaguely knew each other when they were both staff members on the Hill and had a lot of mutual friends. One of Paul Ryan's friends, a weightlifting buddy, was a law school classmate of Janna Little.
Paul Ryan asked his friend if the pretty blond was single. But Paul Ryan didn't make a play and moved on.
"And then I got elected and you know when you run a campaign like that, all the adrenaline leaves your body, you get sick . . . so I crashed, had the flu. I'm out on Congress for orientation. And I was just sick, I just wasn't feeling good," Paul Ryan told Gilbert, who was writing a profile on the Janesville Republican in April 2009.
"And my buddy calls me up, and he says, 'Hey my girlfriend and I, we're taking you to this birthday party.' "
Paul Ryan tells him no thanks - he's going to bed, not to a party.
"He said, 'No, we're not taking no for an answer. We're coming to pick you up. You'll thank me later.' He literally came, knocked on the door, and he dragged me out of there. It was her 30th birthday party that her boyfriend at the time was throwing for her."
Eventually love bloomed. By opening day of Wisconsin's annual gun-deer season in November 1999, they were sharing a tree stand when he shot an eight-point buck.
"She actually spotted it, come to think of it," Paul Ryan said.
They married in Oklahoma, honeymooned in the Virgin Islands and moved to his hometown of Janesville. He was 30, she was 31 when they got engaged. They started a family, which grew to three children, Liza, Charlie and Sam. They joined St. John Vianney Catholic Church in Janesville. Janna Ryan became a stay-at-home mom, juggling the family during the week while her husband is in Washington.
Janna Ryan grew up in the small town of Madill, Okla., near the Texas border. She headed east after high school, graduating from Wellesley College and George Washington University Law School.
For more coverage of Paul Ryan and Janna Ryan, head to jsonline.com/news/paul-ryan.