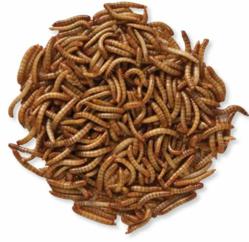 "Live mealworms are definitely a bird magnet!" Duncraft Customer Kay--Bluebird Lover!
Concord, NH (PRWEB) August 14, 2012
Duncraft, a leading source of wild bird feeding supplies, knows their customers want to attract as many different types of birds as possible to their bird feeders. However, many customers are not aware that some of the prettiest birds won't eat seeds at a bird feeder—these birds are insect eaters. Customers can attract insect eating birds, with Duncraft's wide variety of live mealworms and other insect foods.
Mealworms are actually the larval state of a flightless beetle. In this stage, the insect's exoskeleton contains approximately 50% protein, 27% fat, 6.9% carbohydrates and about 440 calories per 100 mealworms.
Mealworm and insect foods are not only highly nutritious, but they move. Moving foods are a visual cue that insect and even seed eating birds can't resist. Their value as an attractant cannot be underestimated. Customers can expect to see many birds coming in for a landing when they see mealworms. These birds include bluebirds, mockingbirds, tanagers, woodpeckers, orioles, jays, catbirds, phoebes and even Purple Martins. Even warblers can sometimes be lured with mealworms. Bluebird lovers feed suet and mealworms almost exclusively, especially during nesting season. Mealworms are a perfect insect food for all baby birds.
Mealworms can be fed in anything from a used tuna can to a special feeder. However it's best to use a container that prevents the mealworms from traveling up and out of the feeder. The birds will still see the mealworms on the ground, but they do burrow and some may be lost. One good feeder for mealworms that allows many different birds to feed is the Vista Dome Feeder, #1092.
Mealworms can also be purchased dried and roasted, canned or mixed in with suet and Duncraft's insect Miracle Meals. A complete line of insect foods can be seen at http://www.duncraft.com
Founded in 1952 and located in Concord, New Hampshire, Duncraft's objective is to bring the joy of backyard birding to wild bird lovers all across the country. Mike Dunn, owner and CEO is constantly inventing and searching for innovative ideas in bird feeding—giving bird lovers years of bird feeding enjoyment, success and satisfaction.
Duncraft
102 Fisherville Road
Concord, NH 03303
603-224-0200