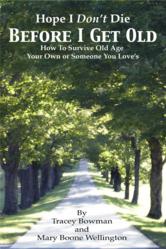 "We don't get lessons on how to take care of our parents,
like growing up--we learn as we go."
Whitefield, NH (PRWEB) August 30, 2012
Finding the right sort of care for a parent, spouse or friend can be a challenge for baby boomers, especially those who still have children at home. This scenario happens more and more often as lifespans for the elderly increase. "Hope I Don't Die Before I Get Old" is a guide to the caregiver, offering friendly support and detailed information the authors discovered as they cared for their own parents. Direct, never drippy, this upbeat guide to caregiving gives information that is useful in a clear and easy to use format. Entertaining as well as informative, told through the authors own experiences, the book details the sometimes surprising challenges of caregiving.
Written by two successful women, Tracey Bowman and Mary Boone Wellington who discover that all their considerable talents and life experience mean little when faced with one impossible dilemma after another in the challenging arena of parent care. Just when they thought they were finished raising their own children, they find themselves cast as caregivers again-- this time to their own parents. Along the way, they realize how ill prepared they themselves are for an extended old age and begin to take action towards a brighter future for themselves as well as their parents.
Solution oriented, this positive and upbeat book takes on the hard issues of caregiving, and delivers sound advice to a generation dealing with the 'good news/bad news' conundrum our ever increasing lifespans present to us. Readers say this enjoyable book gave them new information on aging they could put to use immediately.
Books may be ordered form from the author's web site for half price between now and the New York City book launch party on October18th!