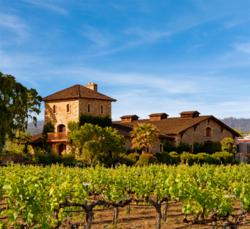 We'll be starting our harvest of Chardonnay and Pinot Noir for sparkling wine very soon to produce our lovely Brut: the Prestige Cuvee
Napa Valley, California (PRWEB) August 15, 2012
The Napa Valley experienced a relatively dry winter, but spring rains added plenty of moisture to the ground, giving the vines an early start on spring growth. This summer saw mostly moderate temperatures, with only a couple of short heat spikes; but the recent string of warm to hot weather pushed grape maturity along and vintners expect this year's harvest to be one of the biggest, due to increased berry set and cluster size.
"We'll be starting our harvest of Chardonnay and Pinot Noir for sparkling wine very soon to produce our lovely Brut: the Prestige Cuvee," explains Director of Winemaking Brooks Painter. "The Pinot Noir is picked earlier, before it is fully-colored, and then gently pressed to avoid red pigments and tannins in the juice," he added. "The Chardonnay is picked slightly riper," he continued, "then they are fermented separately and carefully blended before the second 'methode champenoise' fermentation in the bottle."
"Sauvignon Blanc from our Carsi Estate vineyard was tested yesterday, and the 'brix' (sugar-content) lead us to expect that harvest will begin of this early-ripening varietal by the third week of August," remarked V. Sattui's Associate Winemaker Laura Orozco. The first reds—Pinot Noir, Merlot and some Zinfandels—will arrive at the crush pad around mid-September. Both Painter and Orozco predict that the winery will begin crushing Cabernet Sauvignon in late September through mid-October. The red grapes are looking excellent and quality should be very high this year. V. Sattui hangs a CRUSHING TODAY sign at its entrance, so visitors know they can expect to see a lot of activity...and possibly taste some freshly squeezed wine-grape juice.
About V. Sattui Winery:
Through the years, V. Sattui wines have earned the highest recognition in both national & international competitions. From 2009 through 2012 alone, V. Sattui was awarded an astounding 309 Gold Medals, tops in the nation, with more than 12 wines rated 90 points or more. And ten times in the last decade V. Sattui was voted "Winery of the Year" at some of the most prestigious wine competitions in America.
Founded in 1885 by Vittorio Sattui, today V. Sattui Winery is the only winery in Napa Valley with its own extensive deli offering house-made prepared foods from salads to charcuterie to pastas, pizza, and barbecued fare and over 200 cheeses from around the world. Visitors can assemble a picnic and enjoy it outdoors under the centuries-old oak trees on the winery grounds. V. Sattui is both family-friendly and dog-friendly.
V. Sattui Winery is located 1.5 miles south of St. Helena at 1111 White Lane; the winery is open seven days a week from 9am to 6pm (5pm in winter); no reservations required.