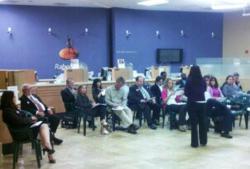 Building a successful business requires more than a great idea.
Temecula, CA (PRWEB) August 14, 2012
An upcoming business event is designed to help entrepreneurs and small business owners better manage their businesses. Jay Goth, a principal at Redtail Capital, will be discussing the new JOBS Act, specifically the changes to Regulation A that allows businesses to obtain investment capital. The event is being held on Wednesday, August 15th at 6 pm in the Rabobank building located at 40723 Murrieta Hot Springs Road in Murrieta.
The event is being sponsored by Tritech SBDC, the cities of Murrieta and Temecula, and several local service organizations. While the event is free to the public, space is limited and it is recommended that those who wish to attend do so at http://www.swrbiztraction.com.
"Entrepreneurs and small business owners are so busy running the day to day operations of their business that they don't get a chance to hear about the many resources and opportunities that are available," said Mr. Goth. "We hold these meetings every two months and try to bring experts in to help mentor the next generation of business owners. This is where job growth is going to come from, and we are dedicated to helping entrepreneurs succeed."
Past meetings have covered various topics including SBA lending, angel investing, patent protection, corporate legal issues, and crowdfunding. At each meeting, attendees are asked to provide areas of interest for future topics.
In addition to the discussion of Reg A funding, there will be a presentation by Todd Dorn, a local commercial real estate leasing expert, on the opportunities and challenges of leasing office and work space today. As a specialist who works with business owners on new leases, lease restructuring and negotiations, lease reviews and advisory services, Mr. Dorn is an advocate for business owners. According to Mr. Dorn, "Business owners don't always realize that their largest fixed cost is usually their business lease. How it's structured and managed can be a benefit to them – or it could lead to disaster."
Tim Loiselle of TriNet, a trusted strategic HR partner to small businesses, will talk about another challenge that faces early stage companies – finding and retaining the right team. "People don't go into business to handle payroll, benefits and analyze business risks," stated Mr. Loiselle. "But part of managing a successful company is making sure that you hire the right people, give them the benefits that they deserve, manage your risks, and cover the multitude of regulations that relate to employment. My goal here is to go over some of the challenges faced by business owners and offer some suggestions that may help them in the future."
"We have had great responses from our attendees in the past," said Mr. Goth. "We keep this very fast paced, there are no sales pitches, and we offer frequent networking breaks so everyone gets to meet each other. I have seen many business partnerships and strategic alliances formed from these meetings and I encourage our local business community to attend. Not many people know about Regulation A and how it's going to impact the business world, but I believe that we will be seeing some massive growth in new capital formation from this."
About Redtail Capital
Redtail Capital is a business advisory practice that assists companies with strategic planning, capital formation, valuations, and merger and acquisitions. The company's primary focus is on issues that affect everyone today, including energy, water, defense and technology. Located in Temecula, California, the company enjoys close proximity to Los Angeles, San Diego, Orange County and the Inland Empire. Securities offered through Independent Investment Bankers Corp. a broker-dealer, Member FINRA/SIPC. Redtail Capital is not affiliated with Independent Investment Bankers Corp. For more information, visit http://www.redtailcapital.com.