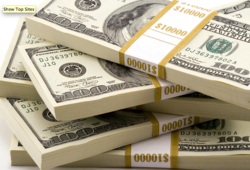 Huntington Beach, CA (PRWEB) August 20, 2012
For those who are looking for new ways to make more money, CashUnclaimed.com has recently found even more ways to offer free money to the public. Aside from providing free unclaimed money searches to the public, CashUnclaimed.com also offers commissions to affiliates who are part of their affiliate campaigns. CashUnclaimed.com offers one of the best commission structures for their affiliates, which makes it easier than ever to generate sales with their program.
"Affiliate marketing is one of the best ways to utilize the Internet to increase sales" says CashUnclaimed.com's founder, Bill McIntosh. This type of marketing is becoming more popular among online-only companies. Affiliate marketing uses the common man to help sell a service or product through the Internet. By recruiting these affiliates, or "sales people", CashUnclaimed.com is able to capture people in the broadest of spectrums and create awareness of their company.
They are also able to utilize those throughout the world, instead of locals, to help promote their service. This is one of the best ways for a company and an individual to reach success in generating maximum sales for the company, and thus, maximum commissions for the individual.
By using affiliate marketing, CashUnclaimed.com has reached millions in providing free unclaimed money searches. CashUnclaimed.com's founder, Bill McIntosh explains, "Affiliate marketing has been one of the major causes for the success of our company. There is no way I would have been able to reach as many people as I have without utilizing my affiliates. And I am glad to pay them for their contributions."
How are affiliates making money as a CashUnclaimed.com affiliate? The affiliates of CashUnclaimed.com are paid on a commission basis. Each affiliate has its own distinct number and identity, which is how the sale is tracked. For every sale that a particular affiliate generated, they receive commissions for that sale. For every CashUnclaimed.com sale, their affiliate is paid $4.00 for every $11.00 sale. This is one of the highest affiliate commission structures, compared to other affiliate campaigns, and many affiliates are able to reach high numbers with this structuring.
CashUnclaimed.com is always accepting new affiliates to their campaign. There is no cost to become an affiliate of CashUnclaimed.com. They are currently part of several affiliate networks, and encourage new affiliates each week to join. CashUnclaimed.com also has an internal affiliate network, which one can access by a link on their homepage. The commission structure per the affiliate is the same whether they are an internal affiliate, or an affiliate on an external website.
Great marketing tools and tips are provided to all affiliates on a weekly basis. CashUnclaimed.com has an excellent Affiliate Manager who keeps in close contact with all affiliates to help increase sales and provide help and information when requested. The affiliate manager also reaches out to the affiliates on all networks with various tips and tools, such as keywords, coupon codes, and banners. The resources the Affiliate Manager provides have proven to be very successful! We have many affiliates who make over $1,000 on a monthly basis!
Currently, there is over $35 billion that exists in unclaimed money, with no end in sight. Unclaimed money is only gaining more popularity and buzz-worthiness, which will make the sales for affiliates easier and easier! The success Cashunclaimed.com is experiencing currently will only increase with the unclaimed money amount. Anyone interested in making easy commission money should sign up to be a CashUnclaimed.com affiliate!