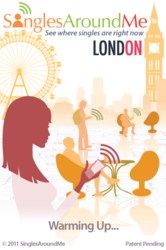 New York, New York, Ottawa, Canada (PRWEB) August 15, 2012
It's a gold medal for SinglesAroundMe in London. Red hot social discovery app SinglesAroundMe (SAM) reported today that 18,000 singles in London downloaded the app during the Olympic games.
London mayor Boris Johnson was photographed picking up a package of Olympic condoms when visiting the Olympic village last month and obviously there were more than just a few Olympians looking to the app to bring them additional success. "It really was the technology games, not just for athletes and spectators but for singles too," commented SinglesAroundMe CEO Chris Klotz.
The unique nature of the location based mobile app allows singles within close proximity of one another, anywhere on earth, to flirt and organize a rendezvous within moments. It is the new way to meet people and has changed the way today's singles meet up, not just in London but world-wide.
SAM users were clearly the medal winners at the games.
http://www.singlesaroundme.com is available for iPhone and Blackberry and shortly the Android.
SinglesAroundMe was founded in 2010 by Cambridge MBA Christopher Klotz. The app already has over 1 million downloads and is the leading social discovery app for meeting like minded singles on the go.
Press contact: Hattie Sellick at hattie(at)singlesaroundme(dot)com or Chris Klotz direct at +00 1-613-791-2676 chrisklotz(at)singlesaroundme(dot)com