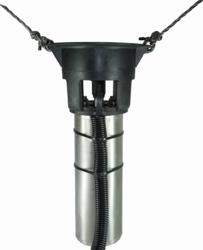 Arbrux is dedicated to providing our customers with high quality products
(PRWEB) August 16, 2012
Arbrux Manufacturing, the leading designer and manufacturer of floating lake fountains, pond aerators and marine dock de-icers, has announced a redesign of Canada's best-selling marine dock de-icer to be released this fall. The newly redesigned de-icer will feature improved performance in shallow water, a larger intake area to prevent fall leaf clogging, and the addition of stainless steel end bells in the motor to help improve the longevity of the device.
"Arbrux is dedicated to providing our customers with high quality products," said Peter Barbe, President of Arbrux Manufacturing. "Based on customer feedback we have incorporated these new features to improve their value."
In addition to the performance of the unit, the newly designed marine de-icer, which is now four inches shorter, also features improved pricing and lower amperage while moving the same volume of water.
Arbrux de-icers are intended to protect your dock, boat and boathouse from ice damage. They are available in a range of sizes with different mounting options to fit commercial or residential applications.
Arbrux also manufactures industrial de-icers, capable of withstanding most ruthless winter conditions from the Northwest Territories to Alaska in order to protect barges or power dams from ice.
About Arbrux Manufacturing
Arbrux Manufacturing has designed and manufactured high quality, reliable and cost effective floating lake fountains, pond aerators and dock de-icers (also known as dock bubblers) since 1979. Products can be used in virtually every application whether residentially, commercially or in an industrial setting.
Arbrux Manufacturing is dedicated to creating the WOW factor with their floating lake fountains, pond aerators and dock de-icers. For an online quote direct from the manufacturer, visit Arbrux.com.