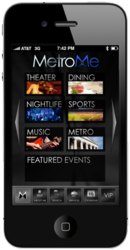 We have recognized that there is a big gap in the marketplace that MetroMe can fill. People use smartphones as an extension of themselves, and these devices have enabled them to go from living online to living in the moment.
Pittsburgh, PA (PRWEB) August 14, 2012
If you've ever traveled to a city and returned home to find out that you missed some of the best things that city had to offer, like dining at the top Michelin-starred restaurant in town or dancing at the hottest nightclub, a new mobile concierge application called MetroMe can solve that problem.
Developed by FlyerCity Media, MetroMe will be available in the Apple App Store and Google App Market this September. MetroMe will provide its users with information about their favorite theater, dining, nightlife, sports, music, and events, all relevant to the city they are in based on GPS positioning. And, for hard-to-find tickets, travel accommodations and other special requests, a VIP membership to MetroMe will allow users to communicate with a personal concierge with intimate knowledge of each city and red carpet access.
"We are passionate about the information that MetroMe is capable of delivering," said Michael Annichine, CEO of FlyerCity Media. "We have recognized that there is a big gap in the marketplace that MetroMe can fill. People use smartphones as an extension of themselves, and these devices have enabled them to go from living online to living in the moment."
The ultimate goal for MetroMe is to be able to launch in 110 U.S. cities by the end of 2012. To help realize this goal, the MetroMe development team will be turning to the Indiegogo crowd funding platform to both acquire the funding to make this happen and increase awareness about MetroMe prior to its launch. The campaign will begin on Tuesday, August 14 and run through September 15. "Our technology development is nearing completion, but in order to create the internal feeds for each of our target cities and build a travel team to scout new locations for us, we need to boost awareness among potential users and raise funds to successfully accomplish our goals," added Annichine.
MetroMe will deliver content specific to the individual user, based on his or her tastes and preferences. It is not a deal-of-the-day site. When a MetroMe user lands in a city, the app will collect dynamic, real-time content about that city from hundreds of data feeds, and deliver that content to the user based on their unique profile. The things that user would likely enjoy in that city will be displayed in their dashboard. The user can then proceed to plan anything from an evening out to an overnight business trip without having to search multiple websites for the things they like. There is also the option to build a calendar and share events with friends. If the user needs assistance making a reservation or finding tickets, a mobile concierge is available via in-app messaging or chat.
MetroMe offers three levels of membership, for as little as $4.99 per month. Subscribing to one of MetroMe's membership tiers helps create an entire VIP experience. For the regular business traveler, or those just looking for special accommodations, a VIP personal concierge can help with flight reservations, hotels, and ground transportation. Exclusive events and tickets may also be available to members through the VIP concierge.
"We know that app users will find something new with MetroMe. Let us show you what we are doing, how you can help, and what unique perks you can get for supporting MetroMe," added Annichine. To help support MetroMe, please visit the Indiegogo campaign at http://www.indiegogo.com/MetroMe.
About MetroMe
MetroMe is a product of FlyerCity Media, an interactive national media and entertainment provider that delivers a multi-dimensional approach to mobile marketing. Through its mobile application and website platform, MetroMe provides its users the best in dining, nightlife, sports, music, theater, events, and more based on their personal preferences and GPS positioning. To learn more about MetroMe, go to http://www.MetroMe.com.
About Indiegogo
Indiegogo is the world's largest self-serve open-funding platform. Since its founding in 2008, the site has distributed millions of dollars to over 24,000 campaigns in 159 countries. Anyone in the world with a dream to make their idea a reality can easily create a campaign to raise money, offer perks and maintain 100% ownership. The company has been featured on "Oprah," ABC's "Good Morning America," and the BBC, as well as in the Wall Street Journal, The New York Times, and Techcrunch. Indiegogo is headquartered in San Francisco, CA. For more information, visit http://www.indiegogo.com and follow at http://www.twitter.com/indiegogo and http://www.facebook.com/indiegogo.
###