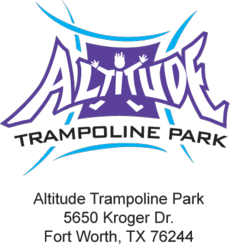 (PRWEB) August 15, 2012
We nearly flipped when we heard an indoor trampoline park will be opening soon in Fort Worth, Texas. With a location right in the center of Keller ISD, Altitude Trampoline Park will spring onto the scene in October of 2012 with more than 35,000 square feet of floor-to-wall jumping fun and activities for all ages. The indoor park will feature several trampoline areas, the largest capable of holding up to 125-150 connected trampolines for endless jumping.
Sports enthusiasts can dart, dip, duck, and dive in exciting games of trampoline dodgeball. Get in on an impromptu game or sign up for league play. Fitness-minded folks of all ages can jump start an exercise routine with one of many fitness classes such as Gravity Aerobics or, for a real boost, hit the deck in Trampoline Boot Camp. Other regularly scheduled events will include an After-School Program, Family Night, Teen Night, and a Senior Spring Chickens group.
The park will have private party rooms and package deals for a hopping good way to celebrate birthdays, anniversaries, family reunions, and other occasions. Unique team building opportunities will abound, with meeting rooms available for business groups, church groups, scouting organizations, and clubs of all kinds.
Also on the park's calendar are special, thrill-filled events like the Halloween Monster Jump, the Thanksgiving Turkey Jump, a Cool Hot Summer Nights Jump, and many more special events. The park will include a jump store, a concession area, and plentiful parking. For grand opening details and to register for early bird specials, visit http://www.altitudetrampolinepark.com.
Owners Jeff Rutten and Curt Skallerup have lived in Tarrant County for over 30 years. They love the concept of an indoor trampoline park. With 3 children each, they recognize the value of a clean, safe environment where kids and adults can have fun, get and stay fit, be part of a team, and make new friends.
Altitude Trampoline Park will bring more than 50 jobs to the Fort Worth community. For information on what jobs are available and how to apply, contact curt(at)altitudetrampolinepark(dot)com
Note to Editor: For more details about the grand opening or to request photographs or an interview, contact Curt Skallerup at curt(at)altitudetrampolinepark(dot)com