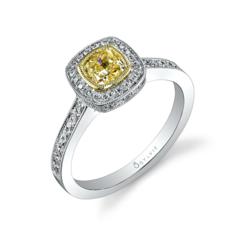 By keeping the center stones small fancies become affordable, even though yellow diamonds are quite rare in nature.
New York, NY (PRWEB) August 14, 2012
What do Adele, J. Lo, Beyoncé and Sylvie all have in common? A love for fancy yellow diamonds! Sylvie Collection, known for designing fashionable and customizable bridal jewelry, unveiled an affordable collection of fancy yellow diamond engagement rings that even A-list celebrities will add to wish lists! Countless celebrities have coveted fancy yellows over the years accepting them as a symbol of betrothal; now they are accessible to even gals with a bridal budget. Each fancy yellow engagement ring, like all Sylvie Collection jewelry, can be customized to suit each couple's budget as prices start at less than $3,000!
The Sylvie Collection has added 150 styles to an abundant collection of over 1,000 engagement rings. Round, pear, radiant, cushion or oval, there is a shape for every bride-to-be. Every design sensibility can also be suited, as each ring can be made in 14K or 18K white, yellow and rose gold or platinum. Many have complex designs utilizing some of designer Sylvie Levine's favorite settings including those with milgrain, filigree and halos. Levine coyly references the trick to making these rings exude radiance: "Our secret and stunning setting technique makes each fancy yellow diamond sing by enhancing the saturation of the yellow diamond!"
By keeping the center stones small fancies become affordable, even though yellow diamonds are quite rare in nature. In fact only one in every 10,000 possesses natural color and is referred to as a fancy color diamond. A white diamond's color (or lack of color) is measured from D (colorless) to Z (dark yellow). Fancy colored diamonds' hues are measured beyond the D-to-Z color scale. According to The Gemological Institute of America (http://www.gia.edu), which offers two types of laboratory reports to certify colored diamonds, a fancy color grader selects one of 27 hues, then describes tone and saturation with terms such as "Fancy Light," "Fancy Intense," and "Fancy Vivid."
To date, Sylvie Collection boasts more than 1,000 customizable styles of diamond engagement rings and wedding bands. Sylvie Levine is committed to designing diamond jewelry that is timeless, versatile and sophisticated. Sylvie Collection uses the highest quality materials including: pristinely cut center stones, hand-carved milgrain, full-cut side stones, fancy-colored diamonds and sapphires as well as platinum,18K and 14K yellow, rose and white gold. The Sylvie Collection is available at fine jewelers nationwide. For more information visit http://www.SylvieCollection.com.
# # #