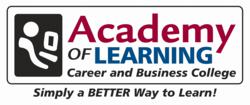 Richmond, Ontario (PRWEB) August 14, 2012
Students, staff and alumni across Canada are expected to participate in the silver jubilee celebrations for Academy of Learning, which are set for the week of August 13th to the 20th. Festivities for the career college will take place at campuses across the country, with events ranging from barbeques and open houses to family picnic celebrations. Academy of Learning has now been a part of countless Canadian communities for a quarter-century, and graduates of the college are an important part of this country's workforce.
"We strongly believe in the power of the individual to change his or her life. We believe it because we have witnessed it firsthand for the past 25 years, and continue to see it happen over and over again," said Derek Hamill, President of Academy of Learning.
Introduced into Canada in 1987, Academy of Learning opened its first location with the goal of fulfilling the need for life-long learning in Canadian communities – the need for quality training in a comfortable environment. Today, more than 60 locations across Canada can be found in Prince Edward Island, New Brunswick, Nova Scotia, Ontario, Manitoba, Saskatchewan, Alberta, British Columbia and the Northwest Territories.
"All of us at Academy of Learning are extremely proud to have reached our 25th anniversary. In today's tough economic world it is no mean achievement. I would especially like to thank our dedicated staff at both regional offices as well as the directors and staff at all of our college locations for helping us reach this significant milestone. Of course we could not have gotten here without the support of our thousands of students over the past 25 years. They have been the backbone of our success, and on behalf of all of us at the Academy of Learning I would like to extend my heartfelt thanks to them."