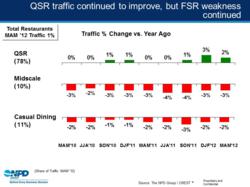 "Consumers may not be flocking to restaurants in droves, but they are going out, that's good news," says Bonnie Riggs, NPD restaurant industry analyst.
Chicago, Illinois (PRWEB) August 14, 2012
The restaurant visit gains this past winter are proving to be the result of a mild winter and not the beginning of a long-hoped-for recovery as industry traffic rose one percent in spring quarter 2012 (March, April, May) against modest declines in same quarter year ago, according to The NPD Group, a leading market research firm. With foodservice traffic not gaining upward momentum, consumer confidence sagging, and unemployment still relatively high, NPD has adjusted its industry traffic forecast to flat for the next two years versus the one percent gain originally forecasted for years ending December 2012 and 2013.
The quick service restaurant (fast food) segment, which comprises 78 percent of the industry traffic, kept total industry visits positive with a two percent visit gain in the quarter, according to NPD's CREST®, which tracks the foodservice industry based on consumer reporting of over 400,000 visits to foodservice outlets a year. In contrast, visits to midscale/family dining and casual dining segments were down three and two percent respectively.
Despite a slowdown in foodservice traffic growth, the average eater check of restaurant consumers increased two percent in the spring and overall consumer spending for commercial foodservice increased by nearly three percent despite slowed traffic growth. The two percent increase in checks lagged behind inflation for food-away-from home, which is up three percent, but it was still the strongest rate of increase in over two years, according to NPD's CREST foodservice market research.
"Consumers may not be flocking to restaurants in droves, but they are going out, that's good news," says Bonnie Riggs, NPD restaurant industry analyst. "We're also seeing that when they do dine out, they are trying new offerings, spending a little more and not relying totally on deals. However, their continuing cost-consciousness, still relatively high unemployment, and economic uncertainty will keep the industry flat."
-30-
About The NPD Group, Inc.
The NPD Group is the leading provider of reliable and comprehensive consumer and retail information for a wide range of industries. Today, more than 2,000 manufacturers, retailers, and service companies rely on NPD to help them drive critical business decisions at the global, national, and local market levels. NPD helps our clients to identify new business opportunities and guide product development, marketing, sales, merchandising, and other functions. Information is available for the following industry sectors: automotive, beauty, entertainment, fashion, food, home and office, sports, technology, toys, video games, and wireless. For more information, contact us, visit http://www.npd.com/canada, or follow us Twitter at https://twitter.com/npdgroup.