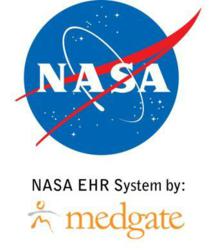 This is a great honor for Medgate and a testament to our commitment to customer service.
(PRWEB UK) 14 August 2012
The NASA/Medgate EHRS team has been working collaboratively to replace the traditional paper-based medical records with the web-based Medgate's system that tracks and manages NASA's health requirements. The full deployment will be completed in September 2012, providing NASA with the ability to streamline electronic medical recordkeeping, facilitate 'real-time' identification of critical health issues and efficiently manage all information related to employee clinic visits. The Medgate solution is in compliance with the requirements of the Office of National Coordinator within the Department of Human and Human Services to document all patient care electronically: "It is centrally procured and centrally managed," said Verba Moore, manager of the agency Occupational Health Support Office at Kennedy Space Center. "It's cost effective for the agency overall because centers will no longer need to maintain individual programs."
The NASA EHRS team also procured Medgate's occupational hygiene capabilities. Hygienists and physicians are be able to work together to provide accurate patient care to the employees who participate in NASA missions that could potentially impact their health, by documenting equipment inventories and tracking lab results. The Medgate consultant assisting with training the industrial hygienists, Monica Melkonian, is a former NASA industrial hygienist, and this is an illustration of Medgate's dedication to excellence in client service, by driving product innovation and quality, and through the professional expertise of the personnel. "The space centers and NASA sites are now live and happy on their Medgate EHRS system. The fact that The NASA/Medgate EHRS team won this award speaks volumes to the efforts of this team and NASA upper management. This is a great honor for Medgate and a testament to our commitment to customer service." said Mark Wallace, Medgate's President and CEO.
About Medgate
Medgate™ (medgatesoftware.co.uk) is the leading global provider of software for occupational health and safety data management. Available in multiple languages, Medgate software is used across the globe in hundreds of the best known corporations and government entities. Its latest product release, GX2, incorporates powerful new business intelligence reporting tools, as well as enhancements to its occupational health, safety, environmental and industrial hygiene software suites.