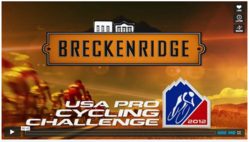 "Last year the finish line was right in front of our office. It was the most exciting race.... said Shannon Sinnard of Ski Country Resorts
Breckenridge, Colorado (PRWEB) August 14, 2012
The town of Breckenridge is abuzz with all things rodeo at the moment, but in just 2 weeks, riders of a different sort will be descending on this amazing Victorian town.
"We are thrilled to continue our partnership with the USA Pro Cycling Challenge in 2012," said Breckenridge Mayor, John Warner. "Breckenridge played a prominent role in the inaugural 2011 race and the excitement and energy generated by the event is something we want to continue to build upon."
"Last year the finish line was right in front of our office. It was the most exciting race. I don't think I have ever seen that many people in Breckenridge. It almost look like the races you see in Europe on TV," said Shannon Sinnard of Ski Country Resorts. She added, "We are super excited that the riders are coming back to Breck and we're offering some last minute deals that will help people get great lodging. (http://www.skicountry.com/breckenridge-packages-and-specials/last-minute-deals)
http://www.breckprocycling.com is the best resource for information about the race and will be updated as info is available. The website includes maps, closures, event schedules, etc. The LOC will again host community information meetings, likely at Town Hall, scheduled for Thursday, Aug. 9 at 8:30 a.m. and 5:30 p.m. Information will be posted to the website as it is confirmed. Facebook (https://www.facebook.com/BreckenridgeQPC) and Twitter (http://twitter.com/breckprocycling) are also good resources.
The race will be broadcasted live on a big screen television in downtown Breckenridge Thursday, Aug. 23 through Sunday, Aug. 26. Check back often at the website for new events and updated information as it becomes available. All times are approximate.
Thursday, August 23
Poker Ride with the Summit Fat Tire Society
Breckenridge Cruisers Ride
Film Festival benefiting Summit Huts Association
Friday, August 24
Start Village activities and autograph opportunities 9:30 a.m.
Rider ceremony 9:50 a.m.
Race start with neutral laps through downtown Breckenridge approx. 10:50 a.m.
Citizen Street Sprints
Ripstoke trials and mountain bike stunt show
Maceo Parker concert approx. 4:30 p.m.
So make sure to get your lodging in order and plan to a a great time in Breckenridge.