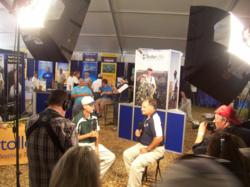 We hope they can take home some solutions for challenges they'll face in the coming season
Boone, Iowa (PRWEB) August 22, 2012
Growers attending the 2012 Farm Progress Show can stop by booth #9102 in the VIT tent to talk with StollerUSA's group of progressive yield contest winners about their crop management practices which include Stoller products like Bio-Forge®, Bio-Forge ST, for seed treatment and X-Cyte™. An annual exhibitor, Stoller will have growers from around the country available to speak with visitors and answer questions about the growing methods using Stoller's leading products.
"Stoller is very excited to be back at the Farm Progress show for another year giving us the ability to meet with growers from across the country and share innovative ideas," stated StollerUSA Marketing Director, Jeff Morgan. "We hope they can take home some solutions for challenges they'll face in the coming season. Drought stress is on everyone's mind and our progressive growers will be available to discuss how they're fields performed with products like Bio-Forge under the most extreme stress we've seen in a while."
Stoller's technical team will also be on hand to take questions about winter wheat seed treatment and other product applications. By treating seed with Bio-Forge ST, growers can reduce early stress on their winter wheat and protect that investment through germination and increase ROI at harvest.
In addition Stoller will be showcasing grower testimonial videos and plants from area test plots. The 2012 Farm Progress Show, in Boone, IA, opens on August 28 and runs through August 30. For more information on the show visit http://www.farmprogressshow.com.
Bio-Forge ST, at 2 oz per hundred pounds of seed, is one of StollerUSA's most popular and cost-efficient products. By enhancing seedling emergence and early seedling growth Bio-Forge ST ensures protection from stress and improved nodulation and nodule activity in legumes. It is very effective in ensuring root development and growth under cool soil conditions.
StollerUSA is dedicated to helping producers enhance yields by maximizing genetic expression. The result is enhanced marketable yield, improved return-on-investment and improved tolerance to disease and other stress. Only Stoller products contain Stoller's proprietary technology that is proven to ensure optimum plant growth by maintaining appropriate hormone balance in combination with supporting nutrients. Validated by Universities nationwide, Stoller's unique formulations result in healthier, more productive crops that are better able to withstand stress and achieve their full genetic potential.
About StollerUSA
Celebrating 40 years in agribusiness, StollerUSA markets a full line of products to help farmers increase crop yield and quality. StollerUSA, headquartered in Houston, is actively engaged in basic and practical research to enhance crop productivity in more than 50 countries.