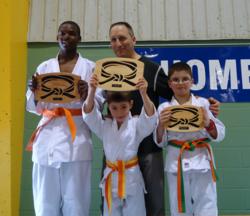 Bullying is a a growing concern amongst parents and children in the school system and Judo can equip children with a way to increase confidence and protect themselves.
Toronto, Ontario (PRWEB) August 14, 2012
Sunday, August 19th, North York's Budokai Judo Club will open its doors to provide professional judo instruction to adults and children of all ages in the Greater Toronto Area (GTA) to participate in one of the most popular forms of martial arts. Judo combines self-defense with intense mental and spiritual training and is an official Olympic sport. The Judo school has a combined 60 years of teaching, training and competitive experience.
Judo is often considered a sport however there are many benefits that go along with training in this martial art. Many participate in Judo to reap the benefits of better health and weight management, increased strength, agility and self-defense. "Increased Confidence, Fitness and Self-defense are just some of the reasons we encourage children to learn the sport of Judo," says Ray Litvak, co-owner of Budokai Judo Club. "Bullying is a growing concern amongst parents and children in the school system and Judo can equip children with an effective way to deal with bullies and protect themselves," he says. "We focus on kids and their day-to-day challenges such as self-esteem and confidence as well as bully-proofing," adds Litvak.
The Judo school will offer lessons and training for all levels of experience and certified judo instructors will teach kids the safe way to practice Judo through proper instruction, demonstration and participation. Children are closely supervised to ensure safety. "What makes it important for children to learn is that judo teaches them important life lessons and sportsmanship by the simple task of participating in the judo club and tournaments, where they can earn medals,trophies and move up to their next belt rank," says Litvak.
Co-owners and Sensei's Rick Koglin and Ray Litvak have re-opened the doors on the club in honor of the memory of their original judo teacher – Sensei Chris Toule, Budokai's founder and dojoshu from the 1970′s to 1986. Koglin Sensei is a fourth degree black belt in judo registered with Judo Ontario, Judo Canada and the Kodokan Judo Institute, Japan. Koglin has practiced judo since 1976 and has competed at the national level for seven years with National and Provincial titles to his credit. Litvak Sensei is a 3rd degree black belt registered with Judo Ontario, Judo Canada and the Kodokan Judo Institute of Japan. He is a student, a teacher and a seasoned competitor, and won the AMCANS in 1989 and represented Canada in the 1989 Maccabiah games. Litvak has competed in many other tournaments throughout North America.
Rick Koglin and Ray Litvak have been passionate about the sport and martial art of Judo for years – you can tell from their experience. Now they are combining their passion and skill with their expertise and welcoming students to come and learn Judo for the first time or to take their current judo training to the next level.
New members are encouraged to come visit the new club and meet the instructors for 2 weeks of free trial classes starting on August 19th, 2012 from 10:30 am – 12:30 pm at the Martial Arts Club (North York Aikido Club) at 1110-5 Finch Ave West, North York, Ontario.
For more information please call (416) 712-6751 or visit us at http://budokaijudoclub.ca
About Budokai Judo Club
Based in North York and serving the Greater Toronto Area (GTA), Budokai Judo Club is the Greater Toronto Area's (GTA) answer to professional judo instruction (recreational, fitness and competitive judo) for people of all ages and skill levels. We provide judo lessons to residents of the Greater Toronto Area (GTA) including Toronto, North York, Downsview, Vaughan, Thornhill, Richmond Hill, Concord, Downsview, Woodbridge and York Region, Ontario.
 
You can find us in the heart of North York at 1110-5 Finch Ave. West, M3J 2T2 in the North York Aikido Club/Aikido Hokuryukai. Budokai Judo Club will officially open its doors on Sunday August, 19, 2012. For more information, or to pre-register for judo classes, please contact Rick Koglin at (416) 712-6751 or e-mail us today.  You'll be glad you did!