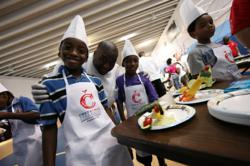 Nampa, ID (PRWEB) August 15, 2012
One of the world's largest manufacturers and suppliers of restaurant goods, KNG Inc. is committed to promoting healthy eating. As part of its Coats for Class program, KNG awarded a $2,000 grant to the American Culinary Federation's Chef & Child Foundation to support its mission of helping children and families understand proper nutrition through community-based events.
Founded in 2012, KNG's Coats for Class program offers up to $50,000 annually in grants to public culinary education programs that serve disadvantaged children and young adults. Through the program, grants in the range of $500 to $2,000 are presented as a credit that recipients can use to buy KNG chef clothing.
ACF's Chef & Child Foundation put KNG's grant to use at the third annual Chefs Outreach to the Community, which was held on July 13 during the 2012 ACF National Convention in Orlando.
At the event, ACF partnered with the Boys & Girls Club of Central Florida to educate local children and their families about healthy eating through hands-on demonstrations at four themed stations - vegetables, whole grains, smoothies and container gardens. KNG donated kids' chef hats and imprinted aprons along with imprinted t-shirts for the 50-plus volunteers.
"Our objective is to teach families how to make healthy choices and equip them with the information and resources to prepare nutritious meals at home," said Michael Ty, CEC, AAC, and ACF national president. "This grant from KNG helped us achieve that by leaving the children with keepsakes that will play a part in them remembering the event and what they learned."
KNG is as an official logo licensing partner of ACF and its affiliate organizations, and offers a line of executive chef coats exclusively for ACF members. The company is proud to support ACF's Chef & Child Foundation's initiatives.
"It is encouraging to see how the ACF chefs gets children excited about healthy eating at events like the one at the Orlando Boys & Girls Club," said Peter Buzzard, KNG's vice president of sales and marketing. "This event is a great example of what KNG set out to do when we launched the Coats for Class grant program back in June—support efforts to teach young people how to prepare healthy foods."
KNG is the world's preeminent menu cover manufacturer and a major provider of chef wear, server uniforms, and restaurant supplies. Founded in 1965, the company has more than 100,000 hospitality clients worldwide, including such leading operators as Pizza Hut, T.G.I. Friday's, Perkins, McCormick & Schmick's, Chili's Grill & Bar and Guest Services. KNG products are backed by a full 90-day money-back guarantee and a 150-percent low-price guarantee. For more information, visit http://www.kng.com.