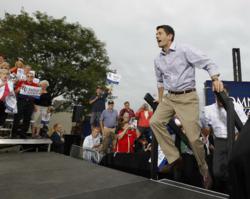 Milwaukee, WI (PRWEB) August 13, 2012
U.S. Rep. Paul Ryan will appear on the November ballot twice following Republican presidential candidate Mitt Romney's announcement that Ryan would be his choice for Vice President on Saturday.
The Janesville, Wis., native is up for re-election to the U.S. House of Representatives for the eighth time, serving the 1st Congressional District that includes much of southeastern Wisconsin including Janesville and Kenosha.
U.S. Rep. Paul Ryan can run for both seats on the November ballot thanks to a 1968 law that stipulates the candidate must be running for President or Vice President in addition to the congressional seat.
For more information about Representative Paul Ryan's congressional campaign and competition, visit JSOnline.com/PaulRyan.