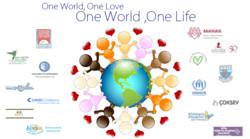 To join as an individual, a participant must spend less than 30 seconds to create their own fundraising page via CrowdRise
Irvine, CA (PRWEB) August 15, 2012
The International Society for Children with Cancer (ISCC) and CrowdRise have come together to organize a virtual, ongoing read-a-thon project. This project encourages children to read while simultaneously instilling charitable values and raising money for kids with cancer and their families. When a child's collected read-a-thon donations have been successfully sent in to ISCC, a Certificate of Appreciation will be mailed directly to the child who participated.
There are three ways for children to participate in this read-a-thon. First, anyone can join as an individual. To join as an individual, a participant must spend less than 30 seconds to create their own fundraising page via CrowdRise, and then get their friends and family to sponsor them on this fundraising page. Second, anyone can join an existing team. To do this, a participant must visit the fundraising page of their favorite official team and click the "join the team" button. Then their very own fundraising page will be available. Lastly, anyone can create a new read-a-thon team. In less than 30 seconds a participant can create a new team fundraising page that their friends, family, and acquaintances can join.
The International Society for Children with Cancer is a non-profit, non-governmental, non-political international cancer society. Among the leading kids with cancer charities around the globe, ISCC is dedicated to helping children with cancer worldwide, regardless of their financial status and nationality. This charity for kids with cancer strives to connect with those who want to donate to cancer in an effort to save the children by breaking the link between children and cancer. Over 90% of each donation for children collected by this charity for children with cancer goes directly to programs dedicated to curing kids cancer around the world. 100% of all donations for children in need made to this kids with cancer society are tax deductible.
For more information please visit http://www.iscc-charity.org.