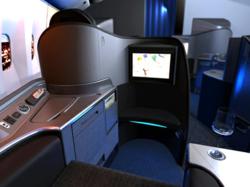 Fremont, CA 94538 (PRWEB) August 13, 2012
The days of paying mega bucks for a few spare inches of width, a cup holder and leather for your backside are finally evolving into something that might be worth the high cost of comfort. First and business class airline travel is on an upswing in the U.S, and has the potential to bring in big business for many struggling U.S airlines. You may actually get what you pay for… and then some.
Recently, three of the United States legacy carriers introduced their new, revamped first and business class configuration on many of their wide-body fleets which primarily fly international routes. Those features include wider sears that recline in to a lay-flat bed for those long-haul flights. Delta, United and American Airlines have all made the commitment to supply those elite customers with the best quality money can buy. Later this year both United and American will take deliveries of brand new aircraft. United is set to become the first U.S airline to fly the new Boeing 787 and American will take delivery of its brand new Boeing 777-300, which is a stretched version of their current Boeing 777-200 fleet. Both of the new airplanes will be equipped with the most advanced, state of the art amenities any first or business class passenger can ask for.
With aging fleets, a bad economy and above average fuel prices, the U.S airline industry has struggled to keep up with their international competitors when it comes to upper class comfort. Atlanta, Georgia based Delta Airlines recently renovated many of their older international 767-300ER and domestic 767-300 fleets with the lay-flat seats for Business Elite passengers. Other features with Delta include their Gogo Inflight Internet access which allows the passenger to plug in their lap-top or other Wi-Fi enabled devices directly into the electrical outlet at their seat. Delta also has a vast library of movies, TV shows and games to choose from.
These are just some examples of what first and business class passengers can expect for 2013 as far as the U.S carriers are concerned. If you want to peer into a 2050 future of first and business class from an Airbus engineers perspective, we might not find those wider, lay-flat bed seats too appealing. The folks at Airbus are hard at work innovating the idea of creating "a whole new flying experience inspired by nature" says one engineer. "Imagine a cruise ship in the sky" says another engineer. Below are some of the ideas Airbus has come up for their concept cabin.

Personalized zones that replace traditional cabin classes, with videoconferencing, interactive video games and a "vitalizing seat" to watch the planet spread out beneath your feet. Resolution? Life. (And to think I was going to settle for Bloomberg BusinessWeek.)
More personalized zone perks: vitamin and antioxidant enriched air, mood lighting, aromatherapy and acupressure treatments.
A bionic aircraft structure that mimics the efficiency of bird bone. Translation: light and strong.
A biopolymer membrane controls natural light, humidity and temperature, "eliminating the need for windows." Including the floor of the aircraft.
An integrated "neural network" to serve as an intelligent interface between passenger and plane, responding to passenger needs. Example: seats that change to your body shape.
3D printing: some cabin elements could be created using additive layer manufacturing.
An "interactive zone" in the center of the cabin that uses pop-up projections for holographic gaming or virtual changing rooms.
Energy harvesting will be a part of the cabin environment, such as a heat-collecting seat or solar panels to fuel cabin appliances.
A "smart tech zone."
Let's Fly Cheaper is a low fare specialist, focused on supplying cheap business class flights to international destinations worldwide. To book the lowest fare contact one of our professional travel
agents at 800.240.4366 or go to http://www.letsflycheaper.com