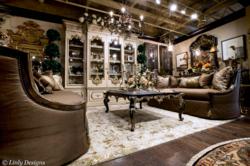 Highland Park, IL (PRWEB) August 15, 2012
Linly Designs, a leading interior design service provider, announces the opening of their new showroom in Highland Park, IL. The 3,000 square foot showroom offers a variety of signature Linly Designs services such as Accessory Call®, kitchen and bath remodeling, silk floral arrangements, custom furniture and cabinetry, and custom window treatments. For ten years, Linly Designs has provided the Chicagoland area with luxury interior design services and is the go-to destination for personalized, unique home environments.
"We are the only showroom in the North Shore that will offer authentic, high-end old-world European style furniture, as well as a full-service design center," said Linly Designs President and Owner Janet Linly. "We feel that our interior design aesthetic lends itself to the luxurious style of many homes located on the North Shore and that Highland Park was the perfect place to extend our services to customers in the area that are looking for a unique design point-of-view."
Linly Designs' Highland Park showroom is the design firm's second location, as their first showroom, located in Clarendon Hills, continues to serve a wide variety of clients. The new showroom, located at 1766 Second St. in Highland Park, offers an extensive variety of exclusive interior design services, including:

ACCESSORY CALL® - An exclusive service offered to Linly Designs' clients, the Accessory Call provides two in-home visits to accessorize and personalize any home. The first visit includes an at-home consultation with a Linly Designs interior designer who will provide suggestions on how to best accessorize any space. The second visit involves the delivery and placement of various accessories, including lamps, florals, pictures and small pieces of furniture. If a client is not happy after 24 hours of living in their new space, Linly Designs will return to pick up any unwanted accessories.
KITCHEN AND BATHROOM REMODELING – With a full staff of skilled professionals, Linly Designs provides complete kitchen and bathroom remodeling, as well as home additions and new construction projects.
CUSTOM FURNITURE AND CABINETRY – Providing the best quality products and services, Linly Designs has its own line of custom cabinetry and furniture and works to complete each project on-time and within budget.
CUSTOM WINDOW TREATMENTS – Linly Designs' custom window treatments provide expertly coordinated fabrics and treatment styles, and are all personally made for each client's home.
SILK FLORAL ARRANGEMENTS – Linly Designs' floral design studio creates one-of-a-kind silk floral arrangements, ranging from accent greenery to a beautiful blooming floral accessory.
DECORATION SET-UP – Provided to set up holiday decor, Linly Designs will visit any home and transform it into a Christmas wonderland. Time can be spent decorating trees, mantles, staircases or anywhere else that is needed. Clients may either use their own adornments or they can be purchased from Linly Designs.
ABOUT LINLY DESIGNS
Linly Designs offers a full range of interior design services and at-home and in-store consultations to create unique and personalized living spaces. Specializing in everything from custom window treatments to hand-picked custom furniture, Linly Designs creates a personal shopping experience exclusive to every client's needs. Linly Designs' exclusive feature, "Accessory Call®", allows clients to experience the way their home would look with furniture, artwork and floral arrangements from Linly Designs. Linly Designs offers clients distinctive, timeless pieces that cannot be found anywhere else and is located at 445 W. Ogden Avenue in Clarendon Hills and 1766 Second St. in Highland Park. For more information, please visit http://www.LinlyDesigns.com.
###
Media Contact:
Paramount Public Relations, Inc.
Jessica Prah, 312.953.3257, jprah(at)paramountpr(dot)com
Sarah Prentice, 312.544.4190, sarah(at)paramountpr(dot)com