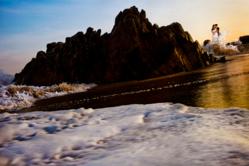 A mentor of mine, Gary Knight, said you have to have an adventurous spirit if you want to be a traveling photographer
Palo Alto, CA (PRWEB) August 16, 2012
Shooting a wedding just around the corner can be a significant challenge. Shooting half around the world can be daunting with different languages, cultures, customs and even jetlag. How does a professional wedding photographer handle all of this? We asked Ben Chrisman, a renowned wedding photographer, who shoots dozens of destination weddings to share some of his experiences, tips and ideas with DigiabsPro blog
"If the unexpected happens, we can deal with it. You can't get upset about travel plans going bad. A mentor of mine, Gary Knight, said you have to have an adventurous spirit if you want to be a traveling photographer, and that's very, very true. If you are a creature of habit and don't like things to suddenly change, then don't make a career out of leaving the safety net of your hometown." States Ben; who travels the world with his wife and co-owner of Chrisman studios, Erin Chrisman.
DigiLabsPro which provides professional photographers with a comprehensive and flexible online proofing fulfillment solution is proud to hosts on its blog known photographers from different areas of the photography world, which are willing to share with fellow photographer's idea, experiences and even anecdotal and funny incidents.
In this blog post, Ben Chrisman shares his experience with destination weddings and provides advice for the up and coming wedding photographer.
Adds Bryan Passanisi Online Marketing: "Each month we feature a professional photographer that is generous to share their experiences and ideas with other Photographers. I hope that the Pro photography community and our many readers can benefit from Ben's advice and insight."
Ben has been featured in the country's leading news publications, including The New York Times, Los Angeles Times, Washington Post, National Geographic and USA Today
About DigiLabs Pro
Since 2001 DigiLabs Pro has been an innovator in product and technologies designed for professional photographers. With its free workflow software professional photographers can:
Upload richly customized ecommerce enabled web galleries with studios' look & feel (DigiLabs is invisible to photographers' customers)
Create & order photographic lab services including flush mount albums, prints, proof prints and photographic proof books as well as other pro products like Gallery wraps.
Create and order custom, press print products including Coffee Table Photo Books, Cards, Promotional cards, Double-Sided Proof Magazines and Calendars.