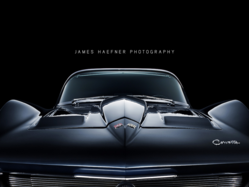 London, UK (PRWEB) August 14, 2012
Car lovers and photography fans alike will enjoy a free new iPad app showcasing the beautiful automobile photography of famed Detroit photographer James Haefner. Rocket Garden Labs, developer of the Foliobook portfolio app popular among professional photographers, launched the James Haefner app as a way to show as many people as possible the gorgeous portfolios that can be created using Foliobook.
The James Haefner app delivers a free collection of Haefner's work featuring beautiful cars. Rocket Garden Labs collaborated with Haefner to deliver an amazing collection of automobile photographs -- from the phenomenally rare Corvette Shark to today's most luxurious vehicles.
Photographs in the James Haefner collection can be flipped through one-at-a-time, or run automatically as a slideshow. Each shot is a page from Haefner's recent work formatted in a professional portfolio format.
Professional photographers will also benefit from this app by learning how a leading automotive photographer presents his work to art directors and prospective clients. This collection is both beautiful and instructive of the art and business process of a great photographer.
"Rocket Garden Labs feel privileged to be able to work with a photographer of Jim's stature, so that the simplicity and clean lines of our app can be experienced with the highest quality photography," said Paul Freeman, Rocket Garden Labs' chief designer. "The James Haefner app will appeal to car nuts everywhere as well as photographers and artists."
Foliobook is unique among iPad portfolio apps in having slideshow transitions that include a signature transition resembling leafing through photographs in a portfolio print box. This transition particularly suited the presentation of Haefner's work because the images represent the layouts of his printed professional portfolio. For this app, Rocket Garden Labs extended Foliobook to add more realism to the transitions. These improvements along with others will become a part of a forthcoming free update to Foliobook.
Foliobook was designed from the start to be suitable for photographers who are at the very top of the industry. It recently achieved greater notoriety after Scott Kelby, editor-in-chief of Photoshop User magazine, published on his blog that, with Foliobook, "I have finally found my portfolio app for the iPad."
About James Haefner
James Haefner is a Detroit based automotive and architectural photographer, his work covers the vintage cool of mid-20th century design to the futuristic present exemplified by modern car design.
About Rocket Garden Labs
Rocket Garden is an interactive design house specialising in mobile and tablet media applications for photographers, designers and creative professionals, based in London, UK.