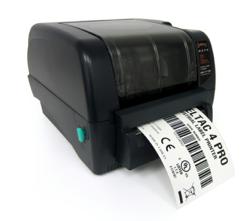 We needed to make over a hundred OSHA compliance pipe marking labels, and the LabelTac 4 PRO finished the job in not time!
Lake Oswego, OR (PRWEB) August 16, 2012
Today, modern businesses need to cut costs and still maintain quality output. So, when a company requires professional results from an in-house safety, marketing, 5S, or lean program, the LabelTac brand of industrial label printers from Creative Safety Supply stand above the crowd by producing fast, affordable labels and indoor/outdoor signs up to 4 inches in height by 40 inches in length.
Compared to its predecessor, the bestselling LabelTac 4 model, the LabelTac 4 PRO has an upgraded processor, more robust motor, improved cutting mechanism - and a ribbon carrier with three times the capacity of the standard model. The LabelTac 4 PRO is built to handle facilities that can print upwards of 5,000 labels a day without a problem.
With plenty of pre-loaded labeling templates and easy connectivity to any PC, LabelTac label printers are some of the easiest to use labeling systems on the market - users can create a label in a Windows-based program, like MS Word, and print it directly to the LabelTac. LabelTac owners can print pipe marking labels, safety signs, arc flash and OSHA stickers, and even bumper stickers with ease - and save money by printing them in-house instead of outsourcing to third-party printing companies.
For ordering information, visit Creative Safety Supply on the web, or call them toll-free at 1-866-777-1360. They have all of the professional label makers and thermal sign printers to suit any business' needs.