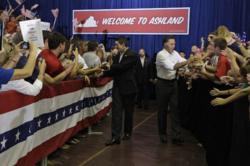 Milwaukee, WI (PRWEB) August 15, 2012
Presidential-hopeful Mitt Romney named U.S. Rep. Paul Ryan as his running mate aboard the U.S.S. Wisconsin in Norfolk, Va., on Saturday.
Hailing from Janesville, Wis., Ryan delivered a short speech after Romney introduced him as a picture of "small-town America" to thousands of GOP supporters. Ryan criticized the Obama administration's existing policies as ineffective and assured attendees that a Romney-Ryan style of leadership would change things for the better.
Romney also touted Ryan as an intellectual leader in the Republican Party who understands financial challenges facing the country.
For full coverage of the announcement, photo galleries, videos and more, visit JSOnline.com/PaulRyan.