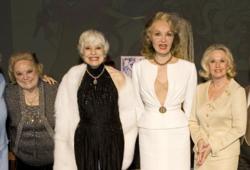 Long Beach, CA (PRWEB) August 14, 2012
Who doesn't know Carol Channing? The internationally-loved star of "Hello, Dolly!" and "Gentlemen Prefer Blondes" has been charming Broadway, movie, TV and concert audiences for seven decades, from "Thoroughly Modern Millie" and "Touched by an Angel" to "Broadway at the Hollywood Bowl" and "Family Guy." Her awards include 3 Tonys, a Golden Globe Award, an honorary doctoral degree from Cal State University Stanislaus, and an induction into the Smithsonian Institution. The award-winning documentary "Carol Channing: Larger Than Life" played in theaters earlier this year.
Tippi Hedren can teach us plenty about parlaying luck into dreams-made-real. Audiences first met her in Alfred Hitchcock's film "The Birds." She went on to star in her Golden Globe winning role in "Marnie" and then "The Countess From Hong Kong," directed by Charlie Chaplin, with Marlon Brando and Sophia Loren. Tippi's work includes numerous humanitarian causes, as the "den mother" for more than 60 lions, tigers, leopards cougars and other big cats, at the The Roar Foundation's Shambala Preserve near Acton, California. She has most recently been seen on top TV series including "4400," her EMMY considered role of Karen Rosenthal on "CSI," and will join Cloris Leachmen and daughter Melanie Griffith in the season premiere of "Raising Hope."
Rose Marie is known to every generation by her triumphs in their eras. At three, she was billed as Baby Rose Marie, starring in the first talking short, "Baby Rose Marie the Child Wonder," which was played before the feature film "The Jazz Singer." In 1946, she was hired by Bugsy Segal to headline in the first big time casino hotel in Las Vegas - The Flamingo. She appeared on Broadway with Phil Silvers, and later starred in "My Sister Eileen." Rose Marie became a household name as Sally Rogers on "The Dick Van Dyke Show," and then "The Doris Day Show." If you missed her on tour in "4 Girls 4," you can pick up her best-selling memoir, "Hold the Roses."
Julie Newmar is the original (and to many the only) Catwoman of "Batman" fame. The daughter of an engineering professor and a Ziegfield Follies girl, Julie made her Broadway debut at 19, won a Tony Award and Golden Globe, moved on to movies at 20th Century Fox studios, and then to television appearances. Her sense of humor and physicality made her TV most popular villain. Julie astonished Broadway in a revival of "Li'l Abner," 42 years after performing in the original production as Stupefyin Jones -- in the same costume! In her 60s, she modeled in Paris for designer Thierry Mugler, and appeared in George Michael's music video, "Too Funky." Ms. Newmar is a real estate entrepreneur, expert gardener and patented inventor.
NOTE: ADVANCE TICKET PRICES ARE LIMITED. For more information about the "The Legendary Ladies" and other celebrated panels and speakers, please visit http://californiawomensconference.com/program/program-at-a-glance Tickets are available at http://www.CaliforniaWomensConference.com.
About the California Women's Conference: The California Women's Conference (CWC), is an annual non-partisan event, and was created in 1985 by then-Governor George Deukmejian, to address the high failure rate among women-owned businesses by giving women entrepreneurs greater access to funding and other helpful resources. Selecting the city of Long Beach as the event's host, city officials and businesses quickly became enthusiastic supporters. Then-First Lady Gloria Deukmejian assumed responsibility for the conference, which became known as the California Governor and First Lady's Conference. Since then, the CWC has always attracted a highly respected and celebrated list of speakers. Today, the tradition of enthusiastically serving women-owned businesses continues under the stewardship of Michelle Patterson, CEO of EventComplete. For more information visit: http://californiawomensconference.com/
About EventComplete, LLC EventComplete, LLC, is a full-service event production company specializing in strategy, production and marketing for large scale conferences, workshops, and festivals with an 'Edu-tainment' flair - entertainment meets education. Although they have been the visionary and creator behind a multitude of successful events across the country, EventComplete's passion and expertise lies in bringing resources to women to help them live their dreams. To learn more about CEO, Michelle J. Patterson and EventComplete, visit http://www.EventComplete.com.